Things You'll Need
Thin makeup brush

Flesh-tone theater makeup

Translucent makeup setting powder

Soft bristle makeup brush

Flat makeup sponge

Temporary spray-on hair color, gray

Large-size bra

Socks for stuffing

Old house dress

Glasses

Cane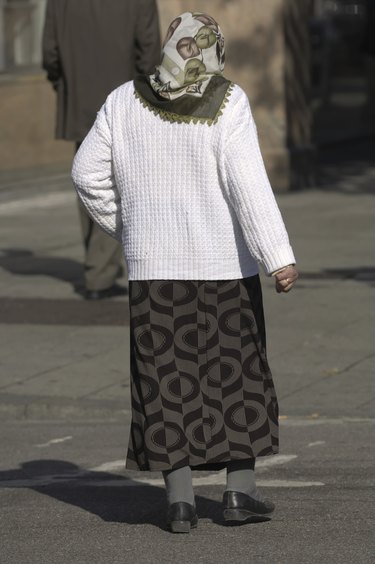 Go for your granny's style for your next Halloween or other costume party. You only need some of your grandparent's clothing, and a bit of skill with the makeup kit. Creating the granny costume starts with using makeup to create the look of old age by enhancing natural creases. You complete the costume with the appropriate clothing and a couple of humorous accessories. Theater makeup is recommended for this costume, but you can get away with using different shades of traditional face powder.
Creating a Granny Face With Makeup
Step 1
Select a dark shade of face powder from the theater powder kit. The powder should be two or more shades darker than your skin tone.
Step 2
Load the thin makeup brush with the darker powder. Apply to the areas around the corners of the eyes and around the lips, as well as to the forehead and frown lines. Smooth the edges to blend with your skin.
Step 3
Set the makeup. Load a soft bristle brush with translucent face powder. Brush over the areas with darker face powder to set.
Step 4
Select a lighter shade of the theater makeup powder. This shade should be about the same shade as your skin or a shade lighter.
Step 5
Load a flat sponge with the lighter makeup powder. Scrunch up your face at the corners of the eyes, mouth and forehead to create creases.
Step 6
Pat the lighter shade of makeup powder over the skin where your face is scrunched up. Slowly relax your face, patting lighter and working outwards with the makeup sponge. This will create the effect of wrinkles and creases from old age.
Step 7
Finish by applying eye and lip makeup as you normally would. Be careful not to disturb the creases you have created with the theater makeup.
Creating the Granny Outfit
Step 1
Pull hair into a simple bun and secure. Spray around the outside with the temporary hair color until it is completely gray.
Step 2
Put on the large size bra. Stuff with socks until the cups are full. Put on the house dress. Smooth out any lumps you notice.
Step 3
Finish the look with a pair of reading glasses and a cane to steady yourself. You may also add slippers with saggy knee-high stockings, a cardigan or a shawl.
Tip
Add a theme to your granny costume. Use garishly colored makeup and wear bedazzled clothing. Or go for a more severe matronly look with a black Victorian-style dress.