Things You'll Need
Thin cardboard box

Candies and toys

Hole punch

Strong string

Flour

Large bowl

Newspaper

Acrylic paint

Crepe paper or tissue paper

Craft glue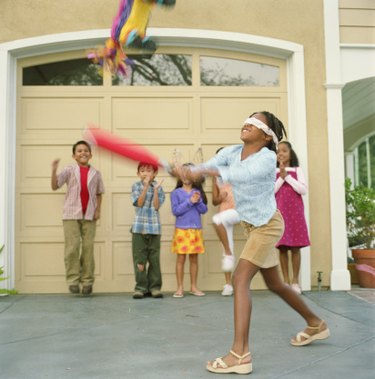 Piñatas are hollow paper mache figures decorated with bright colors and crepe paper, filled with candy and small toys, and hung from a clothesline or tree branch. During holidays, birthdays and parties, blindfolded children swing at the piñata with a stick or baseball bat in an attempt to break it and spill the treats inside. You can keep your piñata simple by making it in the shape of a square.
Step 1
Fill a cardboard box with candies and toys. Choose a box with thin sides that won't be too difficult to break with a stick or bat.
Step 2
Punch two holes on opposite sides of the box, about 2 inches down from the top. Pass a piece of strong string through the holes to make a hanger. Use heavy-duty string that won't snap if a child hits it with a stick or bat.
Step 3
Mix flour and water in a large bowl to make a paper mache paste.
Step 4
Tear strips of newspaper, coat them with the paper mache paste and spread them over the box. Repeat this process until the box is completely covered with strips. Cover the box with at least three layers of paper mache, letting each layer dry thoroughly before adding a new one. The more layers you add, the stronger the piñata will be.
Step 5
Paint over the dried paper mache with acrylic paint in any design you wish. Traditional piñatas use many bright colors. Allow the paint to dry before adding crepe paper or tissue paper.
Step 6
Cut crepe paper or tissue paper into 1-inch squares.
Step 7
Cover the piñata with the paper squares. Glue only the top of the squares and work in rows from the bottom up for a fringed effect.