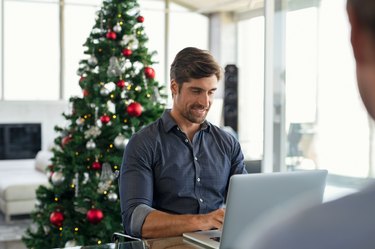 Many researchers have shown that keeping morale high in the office is essential to productivity and employee satisfaction. One of the ways to do that effectively during the hectic holiday season is to play office party games. If your place business is Christian-based, you can offer fun office party games at your annual Christmas party to help engage guests. Games can help foster better inter-departmental relationships and even incorporate families if they are involved in the festivities.
The Classics: Secret Santa and Yankee Swap
Two classic gift-giving games are Secret Santa and Yankee Swap. In Secret Santa, all participating employees enter their name in advance, then randomly select the name of another participant. Buy an inexpensive gift (capped around $15 to $25) for the person you choose, and then everyone has to guess who bought for them based on the present.
Secret Santa can be a little bit stressful, though. Many people feel pressured to buy the perfect gift, and if it's for someone you don't know, that's hard. Yankee Swap can be a good alternative. In this game, everyone participating contributes a small gift, usually with a $20 or $25 spending maximum, then participants take turns selecting a gift from the pile. This game incorporates a good balance of competition, interaction and fun. There are other hot potato Christmas gift games, but Yankee Swap, sometimes called White Elephant, is among the most popular.
Easy Christmas Office Party Games to Play
Here is a quick group of easy Christmas office party games to play that are also suitable for children, spouses and families as a whole. One is called Deck Your Coworker. In this game, divide everyone into teams. Each team appoints one person to be the "tree." The team has five minutes to "decorate" that person, and then everyone determines the winner by voting on the best "tree" (you can't vote for yourselves).
Other office party games with prizes include a Christmas-inspired Family Feud, a fun game to play with departmental teams or families. If your office teammates enjoy physical games, you could have a dangling Christmas cookie-eating contest. In this game, you can give a prize to the person who finishes first, and maybe the person with the least amount of frosting on their face.
If your boss is a good sport, you could also play Boss Elf on the Shelf. Take an Elf on the Shelf doll and tape a picture of your boss's face to it. Take turns posing it in funny places and positions throughout the office. You can do this during the party or throughout the holiday season.
Office Party Games With Prizes
Giving prizes is a great way to get your staff more engaged and have fun at the party. As a tip, have a range of awards, including company swag (t-shirts, water bottles and other items with the company logo) and more high-stakes prizes, such as Amazon gift cards or even a pair of wireless earbuds.
All of the games above could be turned into prize games by just having awards for winners. Other games you can try include a Christmas variation of Name That Tune Emoji Edition. The person who can correctly name the most tunes is the winner.
If your office party includes children, you could also design a scavenger hunt where the participants need to find specific people or objects throughout the party. You could also try a fun Christmas twist on the Easter Egg Hunt called a Jingle Bell Hunt. In the same way you'd hide Easter eggs, you can hide jingle bells throughout the office.