Things You'll Need
1 cup pinto beans

Heavy pot with lid

Colander

2 tbsp. olive oil

1 garlic clove, peeled and minced

1 cup yellow onion, chopped

Potato masher or wooden spoon

Minced jalapeno pepper, cayenne pepper, salt and black pepper to taste

1/2 cup shredded sharp cheddar cheese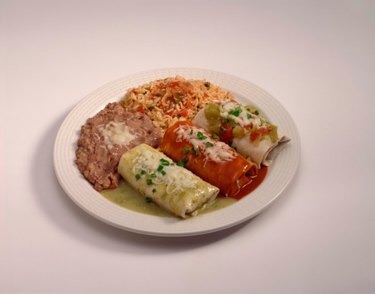 If you love flavorful, restaurant-style refried beans, you can make your own at home. Save money by whipping up your own batch of refried beans instead of overspending at your favorite Mexican restaurant. You can use homemade refried beans to accompany a variety of traditional Mexican dishes, such as enchiladas, burritos, tacos and fajitas. Refried beans also make a tasty and filling party appetizer dip when served alongside tortilla chips.
Step 1
Soak 1 cup of pinto beans in a bowl of water overnight to begin the softening process. Drain the beans and transfer them into a heavy pot. Cover the beans with 2 to 3 inches of water.
Step 2
Bring the water to a boil and cover the pan with a lid. Reduce the heat and allow the beans to simmer for 1 1/2 to 2 hours, or until they are soft. Drain the beans in a colander and place them back into the pot.
Step 3
Warm 2 tbsp. of olive oil in a heavy skillet over medium heat. Saute one minced garlic clove and 1 cup of chopped, yellow onions until the onions are translucent.
Step 4
Add the cooked beans and mash all of the ingredients together using a potato masher or a wooden spoon. Mix in some minced jalapeno pepper or dried cayenne pepper to taste if you prefer spicy beans. Pour up to 1/4 of a cup of water into the pan as you are mashing the ingredients to keep the beans from drying out.
Step 5
Add salt and black pepper to taste. Sprinkle in a 1/2 cup of shredded, sharp cheddar cheese and stir until it melts into the refried beans. Serve immediately.