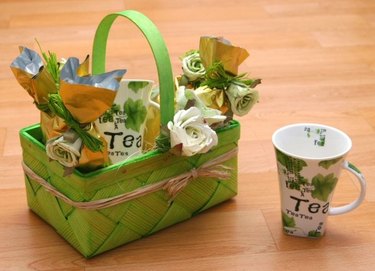 If you have a tea lover on your gift list this year, you can save a great deal of money by giving him a homemade tea basket. You can personalize a basket that you've made yourself much more effectively than one you would buy in a store. There are many other items you can put in the basket with the tea to make it complete. Be sure to find out what your recipient needs and would like to have before you purchase anything.
Step 1
Find an inexpensive basket made from wicker or rattan. Line the basket on the inside with fabric. To increase the appeal of the gift basket, use colorful cloth with a floral, gingham or plaid print.
Step 2
Visit your local grocery or health food store to purchase some gourmet tea. Find a variety of teas such as black, green and herbal teas. Also consider chai, oolong, red and white tea. Look for different flavors, such as citrus, berry, mint, jasmine, earl grey and vanilla. Favor teas that are packaged in small, individually wrapped packages over teas that are loose or in unwrapped bags. If you do opt for the loose tea, be sure to purchase a tea infuser for the basket.
Step 3
Browse for tea cups, teapots, kettles, trivets and cozies. Look in particular for items that are decorative and that go well together. Match the colors and patterns of the items to the personality of your recipient. For example, select dark, solid colors if you're making the gift basket for a man. Choose soft colors and prints if you're making it for a woman. Also make sure that the items will be small enough to fit in your basket.
Step 4
Find some decorative sugar cookies with colored icing. Also look for treats such as chocolates, brownies, petit fours or biscotti. While you're browsing the snacks, pick up some dried fruit and nuts in small packages. Then get a jar of gourmet jam to go in the basket.
Step 5
Add any additional accessories you think your recipient would like. For example, a picture frame, scented candle or a small stuffed animal could help to fill up an empty spot in a large gift basket.
Step 6
Place the gift items in the basket in a decorative arrangement. Tie on a ribbon, bow or other ornament that matches the basket's color theme.
Tip
For added savings, make the tea cookies or brownies from scratch.