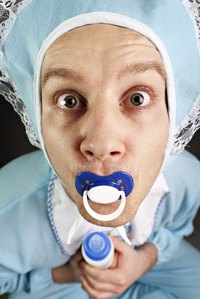 A National Retail Federation survey estimated that the average American would spend an average of $28 on Halloween costumes in 2013. The survey also estimated that around 158 million people would participate in Halloween-themed activities -- adding up to an extortionate amount of money being spent on costumes. If the thought of spending too much money might make you cry, make the tears work for you and dress like a baby.
Things You'll Need
Adult-sized footed pajamas
Sneakers or fluffy slippers
White hand towel
Scissors
Safety pin
1/2 yard of white cotton fabric cut approximately 4 inches wide
3 yards lace trim
2 yard-long lengths of wide ribbon
Red blush make-up
Eyeliner pencil
Pacifier on a length of ribbon
Baby bottle
Stuffed toy
Fold the hand towel in half using its longest side and lay it flat so that the crease is nearest to you.
Create a rounded edge by cutting an arc from the right hand corner to approximately the middle of the farthest edge of the towel. Set the towel aside for the moment.
Make the baby hat by laying the 1/2 yard of cotton fabric lengthwise across your head so that it reaches ear to ear. Cut it to size if needed.
Sew a frilly lace trim completely around each side then stitch one wide ribbon to each of the shorter ends of the hat as ties.
Apply blush to your cheeks and draw a couple of teardrops leading from the outer edges of your eyes with the eyeliner pencil. Add a few freckles to your nose.
Put on your footed pajamas and footwear. Open up the hand towel and tie it around your neck as a bib. Alternatively, use the safety pin to fasten it.
Place the pacifier around your neck, over the bib. Tie on the hat with a large bow and grab a soft toy.