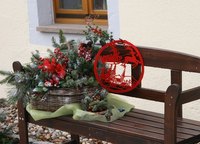 Christmas is a time for friends and family to gather together and celebrate the joys of the season. One way to welcome visitors to your house is to create a festive Christmas-themed front porch. Have fun dressing up your porch for Christmas, and watch your neighbors start decorating their porches, too.
Things You'll Need
Real or fake Christmas tree
Christmas lights
Christmas garland
Christmas wreath
Christmas-themed welcome mat
Luminaries
Other decorations of your choice
Outline the windows and front door on your porch with lights. If you have columns or a railing, outline those with lights, too. Use white lights for an elegant look or large, colorful lights for a more festive look.
Hang large, lit snowflakes or large, shimmering ornaments from the overhang on your porch, if you have one. Hang lit snowflakes or ornaments from the top of each window. Hang real or fake greenery in a garland around the top of your door to create a cozy feel. Replace the light bulbs in your porch lights with red and green ones.
Place a colorful Christmas-themed welcome mat in front of your door. If you have a large porch, scatter all-weather Christmas rugs around the porch. Place real or fake poinsettias in the corners of your porch, along with gaily wrapped packages. Line the walkway to your porch with luminaries.
Hang a large, real pine wreath on the door; dress it up with pine cones, ornaments and a bow if you like. Hang wreaths from your porch railing.
Set up and decorate a Christmas tree on your front porch. Keep it simple with white lights and a few white decorations, or go all out and create a lavish display. Put a bench near the tree so you can sit with some hot chocolate and enjoy it on a clear winter's night.