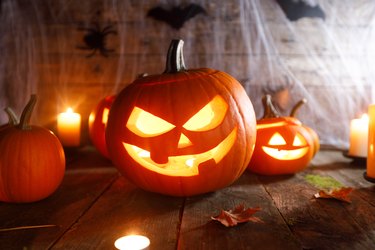 Halloween is a favorite holiday of many adults and children alike. It can be very enjoyable to spend time getting into the Halloween spirit, whether the holiday is a day or a month away. Festive autumnal activities are often cozy, delicious and fun for all ages, making preparing for Halloween night a wonderful experience.
Halloween is heavily associated with food. From the pumpkins that are carved into jack-o'-lanterns to the turnips that came before them in traditional Irish lore and from the candy that is collected by trick-or-treaters to the apple cider doughnuts consumed while visiting the pumpkin patch, food plays a huge role in this holiday.
Get into the spirit of Halloween by enjoying your favorite fall treats in the weeks leading up to the holiday. Apple cider doughnuts are available at many markets, apple orchards, pumpkin patches and other seasonal locations. Apple cider is also a favorite, and it tastes delicious when warmed. It can even be turned into a cocktail for the adults celebrating the holiday.
Bake sugar cookies in the shape of pumpkins and use orange icing to decorate them. You can even draw on jack-o'-lantern faces for extra fun. You can often buy haunted house cookie kits at grocery stores. Like their winter holiday counterparts, these houses can be assembled with icing and decorated with candy. When you've finished that, bake a pumpkin pie and embellish it with peanut butter candies.
Celebrating Halloween doesn't need to be a one-day affair. You can plan a Halloween party and enjoy great music and delicious food that is on-theme with your family or friends. You can outfit your snack table with spiders made of pretzel sticks pushed into a Reese's cup or make sandwich wraps with green tortillas and use olives to create spooky monster faces on top. Make candy apples or snack mix filled with popcorn, pretzels and candy corn. The sky's the limit when it comes to fun and festive Halloween food.
Pick great music for your party to provide just the right ambiance. Songs like "Monster Mash" by Bobby Pickett or "The Purple People Eater" by Sheb Wooley are classics. Alice Cooper's "Feed My Frankenstein" and Outkast's "Dracula's Wedding" are a fun addition too.
For more entertainment, play party games, like pinning the leg on a spider or guessing the weight of a very large pumpkin. Candy is always a good prize at a Halloween party.
Other Things to Do to Get in the Halloween Spirit
If you won't be having a party, you can still get into the spirit of Halloween slowly over the course of the weeks leading up to the holiday. Watch your favorite spooky movies or throw on a family friendly classic like "It's The Great Pumpkin, Charlie Brown." Read Halloween-themed books with children and do crafts, like making pumpkins and bats out of construction paper.
Design and create your own costume for some extra Halloween fun. Household staples like headbands, felt, pipe cleaners and solid-colored sweatshirts can go a long way toward making a simple and inexpensive costume. Remember to watch children carefully if they are using scissors or hot glue guns.
Baking, especially with pumpkins and apples, always feels apropos for the fall. You can also get into the Halloween mood by decorating your home and yard. Use hay bales, pumpkins or mums outdoors. Stretch gauze across bushes to create the look of cobwebs. Cutouts of pumpkins, ghosts and bats make great wall décor inside. You can also get into the spirit by learning more about the history of Halloween.