Things You'll Need
Large black shirt

Yellow duct tape

Black sweatpants

Suspenders

Snow boots

Flag sticker

Local fire department logo

Firefighter hat

Stuffed dog

Hose

Black spray paint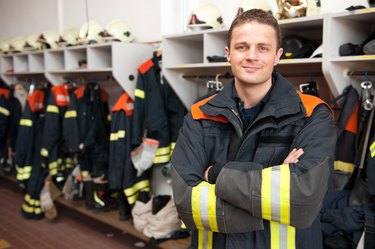 If you are short on time or cash for this year's Halloween costume, don't think you have to cancel your RSVP. It's easy to make your own firefighter costume. It just takes a little time and some materials you should have around the house. One of the best features of the costume is that you can remove the yellow duct tape and reuse the clothing.
Step 1
Find a black shirt. A dress shirt that is a size longer works best. If the function is at night, you may want to wear clothes under your costume. Remove the hem at the bottom and around the collar or neck.
Step 2
Place the flag sticker on the upper left corner of the firefighter shirt.
Step 3
Make a new hem with yellow duct tape. The costume looks really great with a few horizontal strips of duct tape at the hem and sleeves. Find pictures of firefighter coats and jackets online to pattern the tape after.
Step 4
Continue the stripe pattern on the sweatpants with the duct tape. It helps to put the costume on someone to make sure the lines are continuous. Add suspenders to the pants as well.
Step 5
Cover snow boots with yellow duct tape. If the snow boots are black, just cover the top of the boots with the tape.
Step 6
Print a local fire department logo. Cut out the logo and tape it to the firefighter hat. You can also choose to laminate it.
Step 7
Use a stuffed dog to complete the costume. Every firefighter needs a dog, and this is a great way to accessorize. If you are feeling really creative, you can also take an old hose and spray paint it black.
Tip
If you are not planning on reusing the shirt, you can purchase an iron-on flag and letters. Place the flag at the left top corner of the shirt. Iron the letters that form the acronym your fire department uses on the back of the shirt. For example, the New York City Fire Department would be FDNY.
If you need to get a fire department hat, you can tour a fire department or visit a Firehouse Subs to get a hat.