If you're looking for a functional yet fashionable crochet project, opt for a poncho. Crocheted in one piece and folded to create a triangular shape, the poncho is a beginner-friendly garment, which is worked in a combination of single and double crochet stitches. You can make a poncho to keep your shoulders warm in the cooler months, or as a last-minute gift for a friend.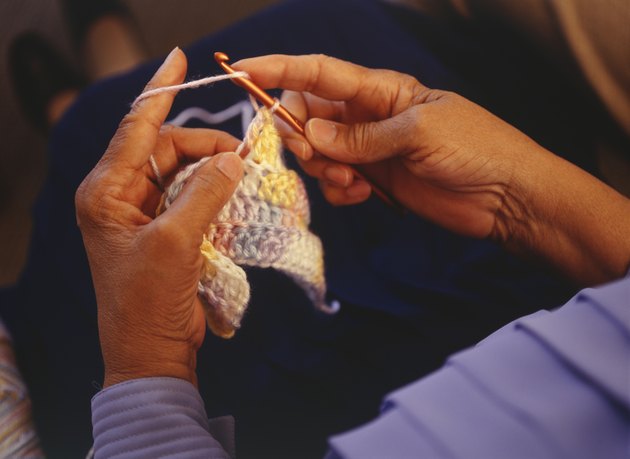 Things You'll Need
200 yards 4-ply yarn

Size H/5mm crochet hook

Size K/7mm crochet hook

Measuring tape

Tapestry needle
Step 1
Crochet a foundation chain of 41 stitches using the larger hook.
Step 2
Crochet the first row by working one single crochet into the second chain from the hook, and then into each chain from the hook.
Step 3
Crochet the second row by chaining three stitches and then working one double crochet into each single crochet to the end. Turn your work.
Step 4
Crochet the third row by chaining one stitch, and then working one single crochet into each double crochet to the end. Turn your work.
Step 5
Repeat steps 3 and 4 until your work measures 54 inches from the beginning. Verify the length using the measuring tape. Fasten off, leaving a 5-inch tail.
Step 6
Lay the poncho flat and fold in half widthways, with the foundation chain and last row together, and to your right.
Step 7
Sew the right edges together for 15 inches from the foundation chain and last row using the tapestry needle and yarn. Leave a 12-inch opening for the neck.
Step 8
Weave in each leftover yarn by threading through the tapestry needle and guiding through the poncho stitches until it becomes invisible.
Step 9
Add a fringe to the poncho by cutting several strands of yarn that are double the desired length. Fold in half and use the smaller crochet hook to thread through the first stitch on the last row of the poncho. Pull the ends of the fringe piece through the top loop to make a knot. Repeat for each stitch along the bottom row of the poncho.
Tip
This is a one-size-fits-all poncho.