Paper flower garlands add whimsy and color to an empty wall, and you can custom design the colors for birthday parties, bridal showers, weddings or any other special occasions that call for festive decor. Hang them horizontally as bunting, or hang several garlands vertically side-by-side, and you have an instant photo booth backdrop.
Things You'll Need
Small flowers and leaves and large flower templates

Printer paper

Cardstock, various colors


Pencil

Scissors

Yellow crepe paper

Hot glue gun

Braided rope or green paper rope (this one is 1.52 centimeters thick by 3 1/2 feet)

Green satin leaf ribbon, 4 feet (optional)
Make Small Flowers and Leaves
Step 1
Tip
Trace any amount of flowers and leaves from assorted cardstock colors, according to your desired length of garland. The garland in this project measures 4 feet long, and a total of approximately 20 small and large flowers of various colors were used. Flowers were placed in groupings of three, which were spaced 2 to 3 inches apart.
Step 2
Cut out each shape from the cardstock.
Step 3
On the morning bells, fold the petals to form a funnel-like shape and secure the end with hot glue. On the small flowers and boxwood, cup the petals in toward the center. On the leaves, fold them in half to create a middle crease. Set aside.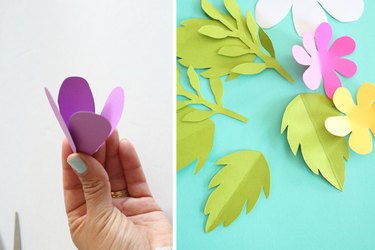 Step 4
Cut a 12-by-2-inch strip of yellow crepe paper.
Step 5
Fold the crepe paper strip over until you have a 2-by-2-inch square.
Step 6
Cut several thin slits at the top of the square.
Step 7
Roll the crepe paper and secure the end with hot glue.
Step 8
Add glue to the bottom of the rolled crepe paper and glue it into the middle of the flower.
Step 9
Optional: Gently curl the morning bell petals inwards to form a cup.
Make Large Flowers
Step 1
Print, draw and cut out the large flower template. Trace and cut out the desired amount of flowers on your desired color of cardstock.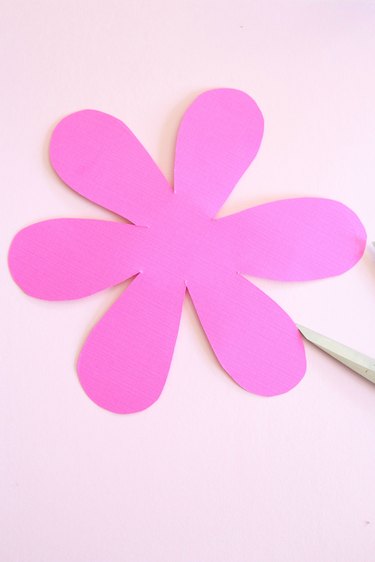 Step 2
Follow steps 4 through 8 above to form the stamen, and apply hot glue to secure the stamen to the center of the flower.
Step 3
Cup the petals towards the center of the flower.
Create a Leaf Vine
Optional: Wrap satin leaf ribbon around your desired length of cotton rope, leaving 3 inches of excess ribbon at each end of the rope. Apply hot glue at the ends of the rope to glue the ribbon in place.
Glue the Flowers in Place
Apply hot glue to the back of the paper flowers and leaves and glue them to the cotton rope. Vary the sizes and color for visual interest.
Tip
Glue flowers in groups of three for more impact.
These flower garlands can be used for parties or for a pop of color in everyday decor.