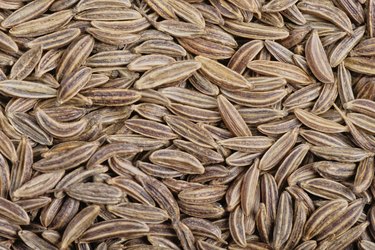 Cumin's smoky, spicy, perfume-y versatility makes it ideal for creating authentic dishes in the cuisines it has starred in for centuries, and it serves as a flavor pick-me-up for common foods. This spice made its way into cuisines all over the world centuries ago, including India, China, Malaysia, the Middle East, North Africa, Europe and Mexico. Cumin is actually a dried fruit, and the ways you prepare it affect its flavor.
Indian Inspirations
Indian cumin has a strong flavor and often combines with other spices in the classic sauces known as curries. These pungent sauces add variety and greater flavor to Indian vegetarian cuisine. Curry recipes vary a great deal by region. Experiment with ground cumin, garlic, coriander and turmeric for a basic curry. If you're unfamiliar with these spices, start with a tiny pinch of each one in a generous pot of coconut milk and adjust to taste. Make raita, a traditional yogurt and cucumber side dish with cumin for a cooling complement.
Middle Eastern Ideas
Meals made up of little dishes were a tradition in many parts of the Middle East long before small-plate dining caught on in the U.S. Toast whole cumin seeds in a skillet just until their aroma releases. Lightly crush them with a mortar and pestle or a rolling pin. Crushing opens the tiny fruits for maximum flavor. Combine the cumin with chopped fresh mint to season mezes such as beets and meat balls. This refreshing seasoning combination works well on meat kabobs, such as beef or lamb. Ground cumin serves as the keynote spice in some versions of hummus, mashed garbanzo beans with olive oil and tahini. Tahini is sesame seed paste.
Mexican Style
Cumin from Mexico tends to be milder than Indian and Middle Eastern cumin and in Mexican cooking it's often combined with complementary flavors such as chili powder, red chili flakes, cilantro, garlic and lime juice. Add whole cumin to long-cooking dishes such as beans and use toasted and ground cumin or powdered cumin to season grilled fish or meat for tacos or tostadas. A spice grinder or coffee grinder works well for grinding toasted cumin. Try adding fresh-ground cumin to black beans with chopped tomatoes as a side dish.
Single-Food Enhancement
Hark back to cumin's use as a substitute for black pepper and use it to perk up the flavor of individual foods. Steam a vegetable of your choice and finish it with sprinkles of freshly toasted crushed cumin and a drizzle of olive oil. Give zest to potatoes or sweet potatoes in a casserole or cold salad with a generous shake of ground cumin over the top. Skillet-roast sweet vegetables such as carrots, yams or corn with olive oil and whole cumin seeds for a satisfying dish with tangy smokiness. Add pinches of cumin to taste 10 minutes before you finish cooking split pea or lentil soup to give the soup a spicy new dimension.