Through the years, whether Jacqueline was a Bouvier, Kennedy or Onassis, she was known for her iconic style and grace. You can recreate her style for a classy costume. Jackie Kennedy's looks were never that complex -- but every detail was perfect. Duplicate that perfection in your costume by finding all of the right accessories.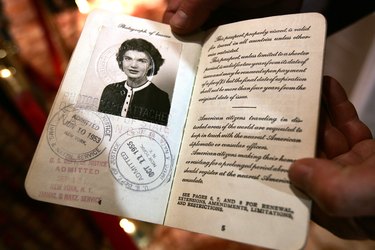 Things You'll Need
Makeup

Brown Wig (Optional)

Jewelry

Sunglasses (Optional)

Hat (Optional)

Gloves (Optional)

Handbag

Dress Or Suit

Shoes
Step 1
Decide what type of Jackie Kennedy look you would like to emulate. Some may select the famous pink Chanel-inspired suit that she wore on the day of John F. Kennedy's assassination. Others may prefer an evening look or a little black dress.
Step 2
Search vintage stores and online vintage sites for a similar outfit or dress. Jackie wore simply designed suits that were of the '50s and '60s era. A typical black dress for her was a sleeveless shift with a nipped-in waist and a hemline that fell at the knee. Look for vintage Lily Pulitzer dresses, as Jackie was photographed in this designer's creations in shots with her family. Jackie wore evening gowns with simple lines. A satin, strapless gown with an empire waist that falls right above the toes is an appropriate choice.
Step 3
Add accessories to your outfit. A classic strand of pearls with matching earrings is a safe choice. Jackie also frequently wore diamonds. Go for diamond necklaces, earrings and brooches with designs that aren't fussy. Select a matching pillbox hat when wearing a suit -- this was one of Jackie's signature looks. Couple a pair of long white gloves with an evening gown for another favorite look of hers. Black oversize glasses can be worn with a casual-styled costume.
Step 4
Select a pair of shoes that complement the formality of your outfit. Choose satin heels that match or coordinate with the color of your gown. Wear a low sling-back leather pointed-toe heel with black dresses or with a suit. Leather sandals will match up with a casual outfit or a sheath dress.
Step 5
Carry a clutch with or without a simple adornment or a "Kelly bag" style handbag in a color that coordinates with your outfit or shoes.
Step 6
Arrange your hair in a neat style with the ends curled under. If you do not have brown hair, you can purchase a smooth wig in a brown hue. Pull your hair into a French twist or a chignon for an evening look.
Step 7
Use a natural approach to your makeup by wearing a light pink blush, natural-toned eye makeup and black mascara. Apply a frosted pink lipstick. Jackie Kennedy frequently wore this color.