Things You'll Need
Chicken breast

Salsa

Potato

Green or red pepper

Onion

Foil

Cookie sheet

Cooking spray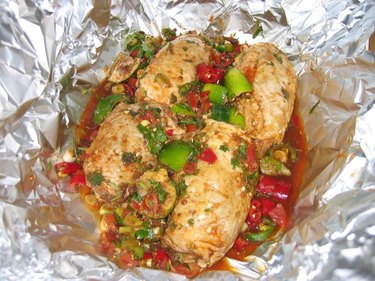 Foil wrapped salsa chicken is a great easy dinner for the whole family. It doesn't involve a lot of cleanup and you can have the entire meal right inside the foil packet. This recipe also allows you to put whatever kinds of vegetables you want with the chicken. By varying the vegetables, you can enjoy your favorite vegetables and not be forced into eating the ones that you don't like. Use the instructions below to make this easy recipe for yourself or your entire family.
Step 1
Get out the ingredients for the salsa chicken dinner. You will need foil, a cookie sheet, cooking spray, salsa, chicken breast, your choice of vegetables such as potatoes, baby carrots, a green or red pepper, and/or onion.
Step 2
Preheat the oven to 350 degrees. Prepare your vegetables. Cut the potato into wedges and slice up the peppers and onions.
Step 3
Tear off a sheet of foil that will be big enough to hold the entire chicken piece and vegetables. Spray this piece of foil with cooking spray.
Step 4
Lay the piece of chicken breast onto the foil. Place your vegetables (baby carrots, potatoes, peppers, and onion) around the chicken. Put as many or as few vegetables that you want with your chicken. This will be an entire dinner.
Step 5
Spoon a few spoonfuls of salsa onto the chicken and vegetables. Close the foil around the chicken and wrap it up by closing the sides and folding over the top and bottom. Use a fork to poke some holes into the foil. Repeat Steps 1 through 5 for multiple chicken foil packs.
Step 6
Place the foil packs onto a cookie sheet. Put them into the oven and let them cook for about 30 to 45 minutes. Take out the chicken after 30 minutes and check to see if the vegetables and chicken are done. If they are not done, try cooking them another 15 or 20 minutes. Depending on your oven, sometimes this can take up to an hour for the vegetables to be done.
Step 7
Serve your chicken packs onto a dinner plate when you are finished. Place your chicken on one side along with the vegetables. This makes for an easy dinner and doesn't involve a lot of clean up too.
Tip
This recipe is flexible. You can change what kinds of vegetables you put in with the chicken. This meal is also great to fix the night before and take in your lunch for work the next day. Prepare multiple ones to use throughout the week. Just freeze the contents and reheat for later.
Warning
Do not overbake the chicken or it will be dry. Cook the chicken until it is no longer pink. The salsa should keep it fairly moist.