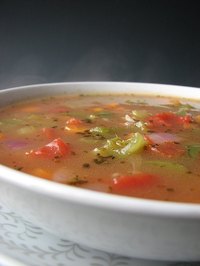 Do you enjoy soup? Not only is vegetable soup healthy, but it's easy to make and easy to adjust for any occasion or lifestyle.You can follow the recipe exactly, or you can change it to meet your needs, providing you with the food you want
Things You'll Need
One tablespoon olive oil
3-4 cups of chopped vegetables: onions, carrots, zucchini, green beans, mushrooms, parsley etc.
One teaspoon salt
One teaspoon thyme
One teaspoon Oregano
Eight cups of water
One can diced tomatoes
One can of beans
One source of starch: potatoes or noodles
Three bouillon cubes
Prepare the IngredientsChop up any vegetables you're using: carrots, zucchini, onions, mushrooms, green beans and potatoes, parsley etc.
Sauté the vegetablesPut the carrots, onions and green beans in a stock pan with the tablespoon of olive oil and heat it over low heat. Sauté these veggies for 3-4 minutes. Add mushrooms and sauté for about 2 minutes.
Add WaterAdd water, cooking stock or bullion cubes, potatoes and the spices to the mix and bring it to a boil. Reduce the heat and cover it and let it boil gently until the potatoes are soft (about 15 minutes). Add parsley before the potatoes are completely done.
Final IngredientsAdd the tomatoes and/or beans and bring it to a boil.
Enjoy!Serve your soup as is, or add crackers or cheese.