Things You'll Need
2 cups fresh goat cheese

4 tablespoons extra virgin olive oil

2 cups mixed fennel fronds, sweet cicely and chervil leaves

Sea salt (to taste)

Mixing bowl

Whisk

Olive oil (for boiling water)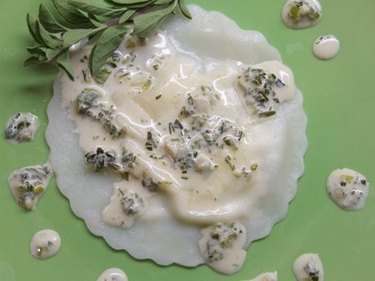 Goat Cheese Sauce is a light and delicate addition to almost any meal. Fresh goat cheese has an air of gourmet not found in the flavor of ordinary cow's milk cheese sauces and it leaves a hearty, yet fresh taste behind. Serve goat cheese sauce as a dressing on salad, a sauce with pasta, or a dip for fresh vegetables. Goat cheese sauce is also spectacular when drizzled over grilled and is a great topping to any grilled vegetables and fried tomatoes. Goat Cheese Sauce is a quick and simple recipe with limitless possibilities! Here's how to make yours in under 5 minutes.
Step 1
In a mixing bowl, whisk the goat cheese with the olive oil until they are fully incorporated and the paste is smooth, fluffy and light.
Step 2
Mince, chop or tear the herbs and fold them into the goat cheese mixture.
Step 3
Season lightly with salt (to taste). Be careful not to add too much salt as the cheese and herbs themselves are quite potent.
Step 4
Store leftover sauce in the refrigerator in an airtight container.
Tip
If you prefer, you can substitute the 1 cup of fresh goat cheese with 3/4 cup fresh goat cheese and 1/4 cup of goat or cow's milk.
Warning
Goat cheese sauce can be stores for 4 days in the refrigerator or in the freezer for up to 3 months.