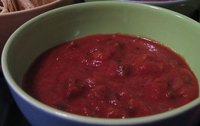 This will show you the way to make your own tomato based spaghetti sauce that includes meat. You can also leave out the meat ingredients for a completely vegetarian meal.
Things You'll Need
28 oz can diced tomatoes
6 oz can tomato paste
1 lb hamburger or italian sausage (optional)
1 tbsp minced garlic
1 small onion (diced)
1 small green bell pepper (diced)
1/2 can mushrooms or 1/4 package fresh mushroom (diced)
1/8 cup brown sugar
Brown the meat of your choosing, and drain. If you want to leave the meat out, start with step two.
Mix diced tomatoes, and tomato paste in small bowl. In a skillet, sautee onion, mushroom, bell pepper, and garlic.
Add in tomato mixture, simmer over medium-high heat for 20 minutes.
Add brown sugar, simmer 15-20 minutes until heated through.
Serve over pasta topped with cheese.