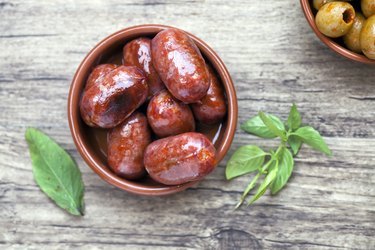 Purists insist that if it isn't made with pork, it isn't chorizo, but beef chorizo easily takes the place of pork in most recipes. The red-hued combination of meat and spices adds flavor to soups and sauces, stews and chili and works as a component of baked entrees. Use it to spice up a bland dish or add it to your breakfast rotation.
The Basics of Chorizo
Beef chorizo, seasoned with garlic and paprika, is a variation of Spanish chorizo, though Spanish chorizo is a dried sausage, and beef chorizo is uncured. Mexican pork chorizo substitutes chilies for the paprika, making for a spicier, less smoky sausage. Cacique chorizo is the brand most commonly found in supermarkets.
The fresh sausage will keep in the refrigerator for two days and up to two months in the freezer. Once the chorizo is cooked to an internal temperature of 160 degrees Fahrenheit, it can be eaten as is or added to any recipe that calls for a spicy sausage.
Brown chorizo in a skillet as you would ground beef to use in tacos, burritos or as a pizza topping. Form it into patties before cooking for a breakfast alternative to traditional pork sausage or as a substitute for a hamburger. Make a spicy twist on a hot meatball sandwich by forming the sausage into balls and topping them with cotija cheese.
Some Traditional Recipes
Cataplana stew, a Portuguese staple, is normally cooked with a pork shoulder that simmers for hours, but you can substitute beef chorizo to cut down on the cooking time. Browned sausage and onions cooked in the sausage's fat are combined with steamed clams and topped with roasted red peppers and fresh parsley.
Patatas Bravas, a staple in Spanish tapas bars, is a simple dish of fried potatoes cut into cubes or sticks and served with two sauces: a garlicky white sauce and a spicy red sauce. Sprinkle cooked beef chorizo over the potatoes and drizzle with sauce.
Tortas with chorizo and eggs is a hearty Mexican breakfast sandwich that can be ready in under 10 minutes. While the chorizo is browning, slice and grill buns and open a can of refried beans. When the sausage is done, stir in beaten eggs and cook until the eggs are set. Spread refried beans on the buns, top with the egg mixture and add hot sauce to taste.
Everyday Chorizo Dishes
Substituting chorizo for ground beef in your nachos recipe adds a spicy element that's more subtle than slices of raw chili. Sprinkle queso fresco, a tangy Mexican cheese, over the nachos instead of the traditional yellow cheese sauce.
Add chorizo to a white or red bean chili. Brown and drain the chorizo before adding it to your chili near the end of the cook time. Stuff poblano peppers with a mixture of cooked chorizo, rice and tomato. Top with cheese and bake until the pepper is fork tender.
Combine chorizo and ground beef in equal parts and form it into patties. Cook the patties to an internal temperature of 160 degrees Fahrenheit and serve it on crusty rolls topped with grilled onions and avocado slices. Dress it with crema, a Mexican sour cream, blended with adobo sauce and a dash of lime.
Chorizo and Eggs
Chorizo and eggs is a classic Latin combination. Add the cooked sausage to omelets, fill a taco with chorizo and top with a fried egg or simply add cooked chorizo to scrambled eggs. Make hash with diced potatoes, chopped onions and chorizo, then crack eggs on top of the hash and cover until the eggs are set.
Sausage, egg and cheese mini quiches work as a breakfast dish or a handheld snack at a cocktail party. Cook the sausage and combine it with beaten eggs and grated cheese. Pour the mixture into mini muffin tins and bake until the eggs are set.
Substitute a chorizo patty for a traditional sausage patty on a sausage, egg and cheese English muffin sandwich. Sprinkle cooked chorizo on your avocado toast and top it with a fried egg.