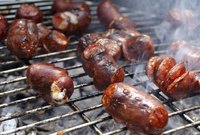 Beef chorizo is unlike any other sausage. It's boldly seasoned with coriander, oregano, and garlic; rounded out with the richness of red chile; and punctuated with a vinegary sharpness. Traditionally, chorizo is served scrambled with eggs for breakfast, alongside crispy potatoes for dinner and melted into cheese with fresh tortillas for snacking. Available ground or in sausage casings, beef chorizo can be a great addition to any dish that calls for beef sausage or ground beef.
Things You'll Need
Vegetable oil or bacon fat
Skillet Fried Ground Chorizo
Bring a skillet to medium-high heat. Add a drizzle of vegetable oil or bacon fat.
Add the ground chorizo to the skillet once the oil or bacon fat shimmers with heat. If you purchased chorizo sausages, remove the casings and crumble the filling into the skillet.
Cook the chorizo for approximately 10 minutes, stirring occasionally to break up any clumps.
Remove the skillet from heat and drain off the excess grease. Serve it with scrambled eggs or add it to soups or stews.
Grilled Chorizo Sausages
Preheat a grill to medium-high heat.
Generously oil the grate, then add the chorizo sausages to the grill.
Cook, covered, for 15 to 20 minutes, flipping once at least halfway through, or until the internal temperature of the sausage reaches 160 degrees Fahrenheit.
Remove the sausages from the grill and let them rest for at least five minutes before serving. Pair with rice and beans or crispy, grilled potatoes.