Full of protein and omega-3 fatty acids, salmon is an excellent choice for a healthy meal. There are so many ways to cook salmon to perfection, be it in the oven, on the stove or on the grill. Stuffing salmon and baking it in the oven is a tasty way to keep the fish moist and infuse it with flavor. Sun-dried tomatoes, baby spinach, basil and feta cheese make an excellent opinion for stuffing fish, and you can get creative with additional ideas listed below.
Love salmon as much as we do? You might also like How to Perfectly Grill Salmon With Its Skin On, How to Bake Salmon in the Oven, and this delicious Pistachio Crusted Salmon Recipe.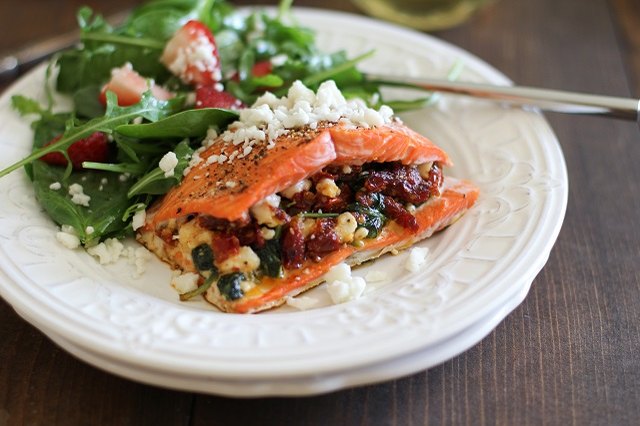 Things You'll Need
2 half-pound salmon fillets (or a 1-pound salmon fillet)
1 tablespoon grapeseed or olive oil
1/3 cup sun-dried tomatoes, drained and chopped
3 cups baby spinach, loosely packed
1 cup fresh basil leaves, chopped
1/2 cup feta cheese crumbles
Sea salt and pepper, to taste

Step 1: Preparation
Preheat the oven to 375 F, and spray an oven-safe cooking dish with oil.
Step 2: Make the Filling
Use a paper towel to dab some of the oil from the sun-dried tomatoes before placing them on a cutting board and chopping them.
Add the oil and chopped sun-dried tomatoes to a skillet over medium heat. Cook for 1 minute, stirring occasionally or until fragrant.
Add the baby spinach and chopped basil leaves to the skillet. It's OK if the skillet seems very full -- the leaves will wilt and cook down. Stir occasionally until the leaves have completely wilted, about 3 minutes.
Turn off the cooking element, and remove the skillet from the heat. Add the feta cheese and stir until well combined with the other ingredients.
Step 3: Prepare the Salmon
Place salmon fillets (or fillet) on a cutting board. Use a sharp knife to carefully slice the salmon through the center, just until the knife almost reaches the other side.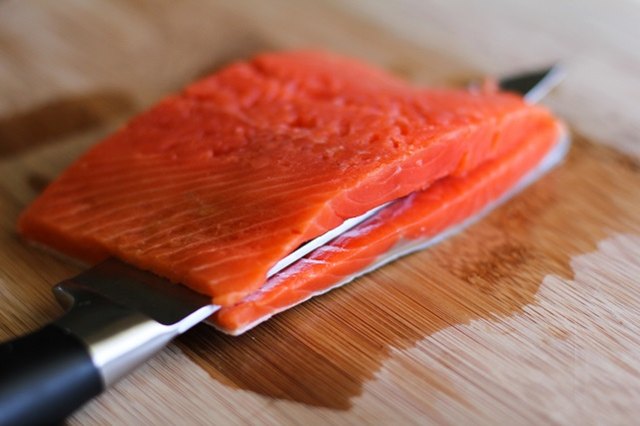 Tip
It's OK if you cut all the way through the salmon fillet. You can still stuff it by placing the slices one on top of the other.
Step 4: Stuff the Salmon
Use a large spoon to distribute the stuffing into the centers of each of the salmon fillets.
Carefully transfer the salmon fillets to the prepared baking dish. Sprinkle with salt and pepper.
Step 5: Bake
Bake salmon on the center rack of the oven for 20 to 30 minutes. If the fillets started out thinner than 1 inch, it should take 20 to 25 minutes. Salmon fillets that started out thicker than one inch will take closer to 25 to 30 minutes. Remove from oven, and use a spatula to serve alongside your favorite side dishes.
Tip
Substitutions and serving suggestions:

Replace the basil with fresh sage, thyme or parsley.

Include 2 cloves of minced garlic, and saute with other veggies until softened.

Atlantic, sockeye or king salmon work well with this recipe. As an alternative, try halibut.

Use goat cheese instead of feta.

Replace sun-dried tomatoes with halved cherry tomatoes. If using cherry tomatoes, increase measurement to 1 cup.

Add dried seasonings and herbs such as rosemary, oregano, thyme, basil, Italian seasoning or Herbs de Provence.

Stuff the salmon with a homemade crab or shrimp salad.

Serve with lemon wedges, or drizzle fresh lemon juice over the dish before serving.
Sprinkle feta, goat or Parmesan cheese over the fish before serving.
Serve the dish with a green salad, quinoa salad, baked potato, steamed broccoli or roasted asparagus.
More Seafood Recipes
Looking for more seafood recipes? Some of our favorites include: