If you're looking for a healthy and impressive dinner option, give this salmon recipe a try. Coated in a crunchy pistachio crust, this baked salmon comes out delightfully moist and flavorful. You can serve it warm, or make it ahead of time and serve it cold in a salad or sandwich.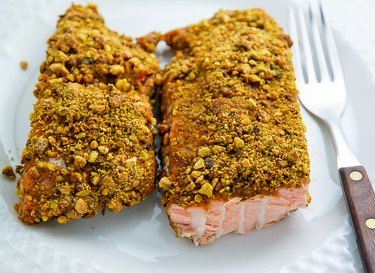 Tip
Add mashed potatoes, baked carrots, or some fresh greens on the side for a light but satisfying meal.
Things You'll Need
2 pounds salmon fillets, cut into 6 pieces


2 1/2 cups shelled pistachios, divided


1/4 cup all-purpose flour


1 teaspoon salt

1/2 teaspoon black pepper

1 teaspoon lemon zest


1/4 teaspoon cayenne pepper

1/4 teaspoon paprika

1 teaspoon garlic powder

2 large eggs

1 tablespoon olive oil

Step 1
Preheat oven to 400 degrees Fahrenheit. Line a large baking sheet with parchment paper and set aside.
Pulse 1/2 cup of the pistachios in a food processor until fine crumbs are formed. Transfer the pistachio crumbs to a large bowl; add in the flour, salt, black pepper, lemon zest, cayenne pepper, paprika, and garlic powder. Mix well to combine and set aside.
Add the remaining pistachio halves to the food processor and pulse into coarse crumbs, leaving them in larger pieces than the fine crumbs you pulsed before. Pour them into another medium-sized bowl and set aside.
Step 2
In a medium-sized bowl whisk together the eggs and olive oil until well combined; set aside.
Coat each salmon fillet in the flour/pistachio mixture, shaking off any excess. Dip it in the egg/oil mixture and allow any excess liquid to drip off and back into the bowl. Finally, generously roll it in the coarsely chopped pistachios, shaking off any excess nuts and letting them drop back into the bowl. Place the salmon fillets, a few inches apart, on the prepared baking sheet.
Step 3
Bake for nine minutes and then turn each piece over and bake for an additional nine minutes, or until the outside is crisp and the center is cooked to your liking.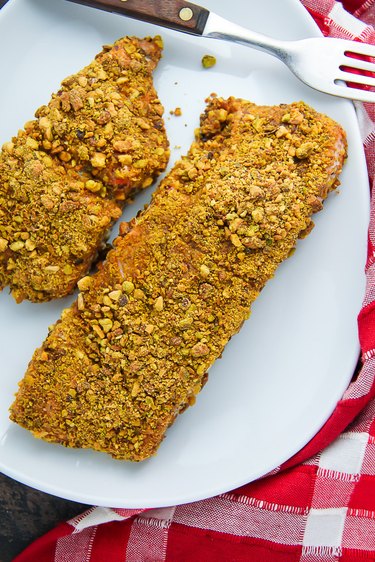 Serve pistachio-crusted salmon warm. Store any leftovers in the refrigerator for up to two days.