Things You'll Need
8 oz. spaghetti

Saucepan

Colander

Mixing bowls

Whisk

2 eggs

1/2 cup shredded mozzarella cheese

1/4 cup grated parmesan cheese

1/2 tsp. dried basil

1/4 tsp. salt

1/4 tsp. onion powder

Dash of pepper

1 tbsp. butter

1 tbsp. olive oil

Skillet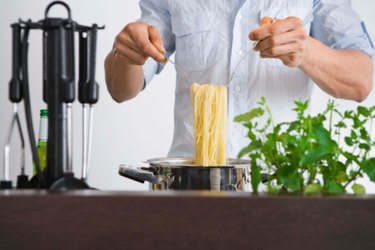 Fried spaghetti is a nice alternative to a pasta dish with heavy sauce. It cooks up quickly for an on-the-go meal, lunch, brunch or light dinner. Make fried spaghetti with regular or thin spaghetti or linguine, and add spices to suit your family's taste. Serve it as a side dish with chicken, pork or beef or with a salad. As an alternative, use leftover spaghetti with a sauce mixed in for a quick and nutritious meal. This recipe will serve two as a meal and four as a side dish.
Step 1
Cook the spaghetti according to package directions in a saucepan. Drain in a colander and place in a large bowl. For leftover spaghetti, this is not necessary.
Step 2
Whisk together in a small mixing bowl the eggs, cheeses, salt, onion powder and pepper. Pour the mixture over the spaghetti and toss to coat well.
Step 3
Pour the olive oil into a skillet over medium heat. Add the butter and let it melt into the oil. Mix the two around to cover the skillet surface.
Step 4
Add the tossed spaghetti to the skillet and spread across the surface. Do not stir the spaghetti once it covers the surface of the pan, but let it fry on the bottom and heat through. Cook for 10 minutes over medium heat, until the bottom of the spaghetti is a golden brown.
Step 5
Turn the skillet out onto a serving plate and cut into wedges.
Step 6
Top with additional grated Parmesan cheese, if desired.
Tip
Adapt the seasonings to your personal taste by using parsley, oregano or other herbs and spices.