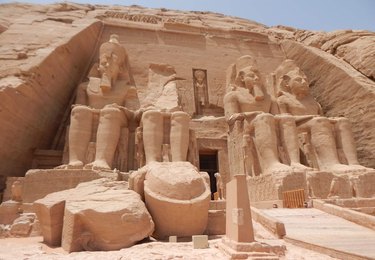 Even though she lived more than 2,000 years ago, people are still mesmerized by Cleopatra. Amateur historians of all ages enjoy reading about her history, watching Cleopatra shows and movies and dressing up like the renowned, regal queen of Egypt. Since most folks know what she is surmised to have looked like, a Cleopatra costume DIY is easy to put together and is sure to draw everyone's eyes in your direction.
There are many ways to approach a Cleopatra costume DIY. One uses a gold prom dress found at a thrift store, a matching sequined shawl and a dark brown or black wig cut to the shoulders with bangs in the front. Accessories include an evil eye bracelet and a snake arm cuff. You can also look for a wide gold belt and wear it around your waist or cut it to make yourself a choker or a crown. Anything styled with snakes will go well with this outfit.
The makeup is the best part of a Cleopatra costume. Use foundation to cover your face and neck and put sky-blue eye shadow on your eyelids. With black eyeliner, begin in the inside corner of one eye and draw it out around the entire rim and then outside the lower lash line to make a winged effect. Repeat on the other side. You'll also want thick, arched eyebrows. The blush and lip color can be more subtle to make your eyes pop.
Child's DIY Cleopatra Costume
You can make an easy Cleopatra costume for a child too. Use an old white angel costume and cut off the sleeves. To make a wide, decorative necklace and headband, draw their shapes onto gray felt. These can be painted with acrylic gold, black and aqua paint. When the paint dries, glue on different color glitter with regular white school glue.
You can accessorize with several black bead necklaces and gold accessories from a local dollar store. If your child does not have dark hair, you can buy an inexpensive wig. Create thin braids in the child's hair, threaded in beads on the bottom. You will need about five to 10 braids to create a noticeable look. Also look for a gold leaf headband and a gold belt in the dollar store. If you do not have gold or white shoes, a pair of sandals will do just fine for this outfit.
Additional Cleopatra Costume Tips
You won't have to do any sewing for these Cleopatra outfits as long as you can find a basic floor-length gown or shorter dress in a solid color, like white or gold. If you have neither, use a queen-size (or twin-size for small kids), solid-color sheet and wrap it toga style around your body. Look for gold accessories and make a collar out of felt.
For the felt collar, you can cut out a large circle and fold it in half. Measure and draw a semicircle on one edge and then cut that out and make sure it fits over your head. Decorate the entire thing by painting it and gluing on different color felt, gold trim and fake gemstones if you like. Do not make it too heavy, though, or it will be uncomfortable to wear. Glue this onto the body of the dress.
Cleopatra did wear a gold crown, but gold-decorated headbands are also fine. You could even draw or glue on some snakes if you like. If you cannot find a snake arm cuff, experiment with tin foil and you can probably come up with something that looks like a real one.