Baking delicious gluten-free fudge brownies is no more difficult than baking regular brownies. All you need is a good gluten-free all-purpose flour blend that can be used as a 1:1 replacement for regular all-purpose flour. While some fudge brownie recipes require you use a double boiler to combine the butter and sugar, you can prepare fudge brownies easily while skipping this step by using melted butter. Break out the mixing bowls, preheat the oven, and you're on your way to a delicious gluten-free brownie experience.
Things You'll Need
3/4 cup + 2 tablespoons unsalted butter, melted and cooled

3/4 cup light brown sugar, packed

1/2 cup granulated sugar

3/4 cup unsweetened cocoa powder

2 large eggs

1-1/2 teaspoons pure vanilla extract

3/4 cup gluten-free all-purpose flour

1/2 teaspoon ground cinnamon, optional

1/4 teaspoon sea salt

1/2 teaspoon baking soda
Tip
You can use coconut oil instead of butter to make this recipe dairy-free. Also try replacing the cane sugar with coconut sugar, powdered honey, or crystallized sweetener of choice.
Step 1: Prepare to Make Brownies
Preheat the oven to 325 degrees Fahrenheit. Lightly oil an 8" x 8" square baking pan, then line it with parchment paper.
Gather up all of the ingredients you need for this recipe, along with two mixing bowls. You'll be using one mixing bowl to cream the butter, sugar, cocoa powder, and eggs, and another mixing bowl for the remaining dry ingredients.
Step 2: Mix the Butter, Sugar, and Cocoa Powder
Add the softened butter, sugars, and cocoa powder to a mixing bowl and use an electric mixer, spoon, or whisk to combine. Stir until well-combined and creamy.
Add the eggs one at a time, mixing well until combined. Add the vanilla extract and mix well until everything is well-combined.
Step 3: Add in the Dry Ingredients.
In a separate mixing bowl, stir together the flour, cinnamon, sea salt, and baking soda. Pour this mixture into the mixing bowl with the wet ingredients and mix just until combined. The batter will be thick.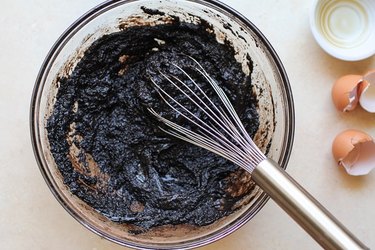 Step 4: Transfer Brownie Batter to Baking Dish
Pour the brownie batter into the prepared baking dish and spread it into an even layer.
Step 5: Bake the Brownies
Place the brownies on the center rack of the preheated oven. Bake for 20 minutes, then test for "done-ness" by inserting a toothpick into the center of the brownies. If batter comes off on the toothpick, bake another 5 minutes.
Tip
For very fudgy brownies, you can intentionally under-bake them, by baking for 18 to 20 minutes. This will result in a moist and gooey fudge brownie.
Step 6: Allow Brownies to Cool
Allow brownies to cool at least 30 minutes before cutting into squares and serving.