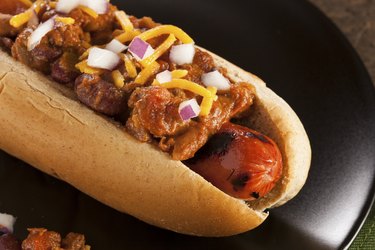 Start to Finish: 45 minutes Servings: Enough sauce for 8 hot dogs Difficulty Level: Beginner to Intermediate
Despite their moniker, Coney Island hot dogs, sometimes simply abbreviated "Coney dogs" or "Coneys," are a regional specialty of the Midwest rather than the East Coast. In fact, in other parts of the country they are sometimes called "Michigan dogs." The key to a coney dog is its sauce, a bean-free chili. This recipe is for Detroit-style Coney sauce, sometimes known as "wet style," which is thin and soupy. The spicing comes courtesy of the Greek diner cooks who invented this dish.
Ingredients
1 1/2 pounds ground beef, 85 percent lean
1 medium white or yellow onion, diced fine
2 cloves garlic, minced
2 tablespoons olive oil
1 6-ounce can tomato paste
1 1/2 cups chicken stock, vegetable stock or water
1 tablespoon chili powder
1 teaspoon paprika
1 teaspoon cumin
1/2 teaspoon allspice
1/2 teaspoon cinnamon
1 teaspoon dried oregano
1 teaspoon salt
1 teaspoon pepper
2 teaspoons cider vinegar
diced white onion, mustard, grated cheddar cheese -- for garnish
Directions
Heat the olive oil in a deep heavy skillet or soup pot over medium-high heat.
Add the onions and cook until softened. Add the garlic and cook 1 to 2 minutes longer.
Add the ground beef and, using a spatula, break up the meat into small chunks. Cook until the meat is well-browned.
Add the spices -- salt, pepper, allspice, cumin, cinnamon, chili powder, paprika and oregano. Stir well until incorporated. Add the tomato paste and the stock or water.
Bring to a boil, then simmer for 30 minutes. Add the cider vinegar and stir.
Serve over hot dogs, garnished with mustard, diced white onion, and optional grated cheddar cheese.
Tips
Many authentic regional recipes call for a mixture of ground chuck and ground beef heart. If you can find the latter, by all means substitute it for half of the ground beef.
For a slightly smoother texture, either puree 1/4 to 1/3 of the sauce in a blender after simmering, or use an immersion blender to partially puree the sauce in the pot.
Warnings
Some purists will contend that a true Coney sauce includes no tomato products whatsoever, but the tomato paste provides a richness that will be missed if omitted.