If a feeling of dread washes over you whenever a houseguest asks the inevitable question, "Where is your bathroom?," then you know it's time for a major overhaul. Whether you're a homeowner or a renter, there are plenty of weekend friendly DIY projects that will take your bathroom from grimy and outdated to fresh and modern. So, you're probably thinking, "The idea of cleaning my bathroom is intimidating enough, you want me to spend my time and money doing what?!" But, believe it or not, renovating your bathroom doesn't have to be an expensive, time-consuming ordeal.
If your sink is lacking style...
...Make a customized bath vanity. Add personality to your space by converting a thrifted dresser into a beautiful bath vanity. This is a bit more involved than, say, hanging a shower curtain (yes, there are power tools involved), but you'll be able to not-so-humbly brag that you made it yourself when guests visit. Go ahead, set the #goals bar high!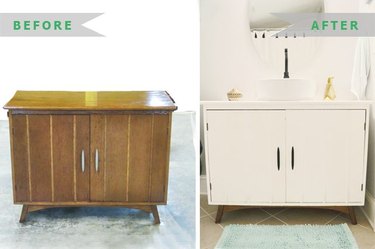 If you're short on counter space...
...Make a radiator cover. If your bathroom feels more like a closet than an actual room, you need to use all the space you can get. Create a radiator cover to gain precious countertop real estate and conceal an eyesore. Win, win!
If your towel bar is crowded...
...Install a towel rack. Sure, you could hang a hook on the back of your bathroom door and call it a day, but why not take your linen storage to the next level? Ditch the dinky plastic hook and stow your towels on a customizable copper pipe towel rack to keep them within arm's reach. It's a convenient organizational system that's not too hard on the eyes, either.
If your floors are looking dingy...
...Refresh your tile grout. If you're looking for the most affordable, least time-consuming task to transform your entire bathroom, this is it. All you need are a few inexpensive grout paint pens and about an hour or two of your Sunday to restore dingy grout to it's gleaming glory days. Added perk: There's no scrubbing required. So, grab your iPad, put on your go-to Netflix show, and get to it!
If your bathtub caulk has seen better days...
...It's time to replace it. You might not know it, but poorly caulked bathtubs can result in some serious damage. Think wood rot, ruined tile installation and other terribly expensive problems — don't let it get to this point! Instead, remove and replace moldy, mildewy and ineffective caulk now to save yourself from dropping a ton of cash later.
If you love a good tchotchke...
...Hang a pretty shelf. What bathroom couldn't use a little extra space? Relocate some of the decorative items you currently display on your countertop to a chic shelf. This DIY faux marble version is the perfect place to showoff a curated collection of nail polishes, a pretty candle and jewelry. Add a framed print of your favorite photo to complete a stylish and functional vignette.
If you're short on storage options...
...Opt for a medicine cabinet. There are plenty of drawer organizers available at your local home goods store, but nothing beats the convenience of a medicine cabinet. Make your own from inexpensive materials to keep oft-used items at the ready. You'll shave precious minutes off your morning routine and finally have time to grab coffee before you get to the office.
If you're sick of your wallpaper...
...Then, it's time to get rid of it. This is probably the most cliché and labor-intensive bathroom renovation of them all (seriously, how is it that horrendous wallpaper has made its way into so many bathrooms?), but it's well worth the effort if you're not feeling the pattern. Use our nifty wallpaper removal guide to make this big project as quick and painless as possible.
If you want to go bold...
...You can actually use wallpaper to your advantage. Yes, we know. You JUST spent all that time removing wallpaper — why on Earth would you install more? Hear us out: There are so many stylish wallpaper options out there that put the "ugh, gross" stereotype to shame. If you're updating a powder bathroom, bold wallpaper is the on-trend way to make a statement on the cheap.
If you're lacking adequate drawer space...
...Use pencil cups and shower curtain hooks to stow your toiletries within arm's reach. All you need is a strategically placed towel rack to organize things like makeup, lotions and anything else you need to have at the ready on a daily basis. No more digging around in an overcrowded drawer to find that perfect lipstick!
If you want to turn your bathroom into a sanctuary...
...Go big or go home. Now that you've done the heavy lifting, it's time to add the finishing touches. From a luxurious bath caddy to scented wax bars to a pretty floral arrangement, we've collected all the do-it-yourself projects you need to transform your newly renovated bathroom into a relaxing retreat.