Have you ever had a cheese potato pie? In my opinion it's the perfect comfort food! My Irish grandmother made one every Sunday when I was a kid, and although less frequent, I've carried on the tradition and make one at least twice a month. This hearty dish is cheap, easy, and highly adaptable. I love serving it with meatloaf or fried chicken, but it's also great with everything from eggs to salad.
Things You'll Need
6 large red or russet potatoes, washed, dried, and diced

2 medium yellow onions, peeled and diced


2 tablespoons heavy cream

2 tablespoons unsalted butter, at room temperature

1/2 teaspoon black pepper or cayenne pepper

1/4 teaspoon salt, more to taste


8 ounces cheddar cheese, grated

Fresh thyme sprigs, for garnish, optional

Step 1
Preheat oven to 400 degrees Fahrenheit. Bring a large pot of lightly salted water to a rolling boil. Add potatoes and onions and cook just until soft; about 8 minutes. Drain well and transfer to a large bowl. Add in the cream, butter, pepper, and salt and mash the mixture together until no large clumps remain. You may do this by hand using a potato masher, or with a handheld electric mixer. Add in half of the cheese and stir well to combine.
Step 2
Spoon the mixture into a 10-inch pie dish or an 8-by-8 inch square baking dish; smooth the top with a spatula.
Sprinkle with remaining cheese and bake for 25 minutes, or until the cheese has melted and is bubbling.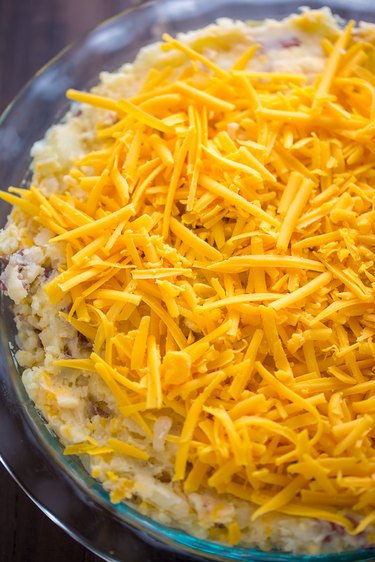 Step 3