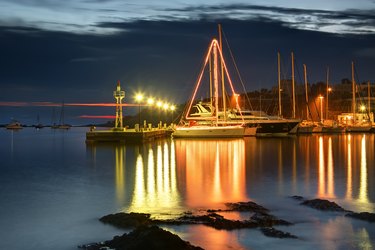 Christmas boat parades are integral to the season. If you own a seafaring vessel or even a small skiff and need some boat decorating ideas, read on for some inspiration. Most importantly, remember that this is a learning process: People who win top honors in holiday boat parades usually have years of experience including a lot of trial and error.
Decorating Boats for Christmas
To participate in a holiday parade, you will need to register before you do anything else. At that time, you will find out the theme and rules, like whether you need to decorate both sides of the boat instead of just one. Some parades only make one pass in front of their audiences.
The next step is to determine how the lights need to be set up. Never mount lights too close to the water; otherwise, they could become submerged. Keep them 1 foot above water at a minimum. This will guard them against waves and wakes. Also, be sure not to exceed the number of light strings that the manufacturer recommends, and use LED wherever possible.
Use holiday lights that are rated for outdoor use and marine-grade 10- or 12-gauge extension cords. Use a separate breaker for these as well as water-resistant, compatible sockets and connectors. You will also want to test out the lights before the parade to make sure that they can be seen from a distance.
Christmas Boat Parade Decorating Ideas
Experts advise first-timers to start small with boat decorations. Once you gain experience, you might even consider doing 4th of July boat decorations in the summer. Dressing up like Santa and Mrs. Claus and having your friends join in as elves, etc., with spotlights on all actors can be a great crowd-pleaser for holiday parades. Everyone can also hold battery-powered LED string lights as they are waving to the crowd.
Inflatable lawn displays are also easy additions to your boat. Look for snow globes and similar kinds, and use bungee cords and tie wraps to secure them as long as they are out of the skipper's sightlines. You can also use those cords and wraps to put up illuminated store-bought decorations. To make your own, draw out a design with sidewalk chalk and build up a frame out of mesh or chicken wire. You can make a frame with cut pieces of PVC pipe and attach rope lights with zip ties.
Christmas decorations can also be made from foam core board and painted plywood. Or, they can be covered with plastic sheets, Mylar or aluminum foil. If the decoration is large and flat, cut in some flaps or holes. Otherwise, they will act like sails, which could be dangerous.
You can also aim spotlights on these, but aim those away from the helm. If you want music playing in the background, test your speakers from a distance because you may have to buy stronger waterproof speakers and adapters. Before buying anything, though, read all of the parade rules thoroughly (and follow them), because you don't want your boat to be disqualified.