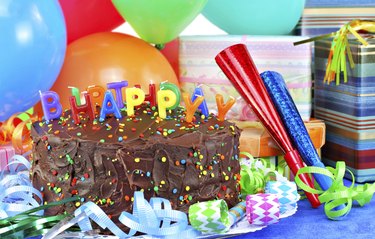 Celebrating your birthday without your family while you're away at college can be a downer, but having friends who transform your room into party central can make the day stand out. When your friend's big day is just around the corner, use easy-to-find decorations to add pizzazz outside and inside the room. Decorate the hallway, door and the room itself with colorful signs, streamers and balloons to give the dorm a festive feel.
Follow the Arrow
Let everyone know it's your friend's birthday by placing decorations around the dorm but outside the room itself. Colorful cardboard signs shaped like arrows and placed to point toward your friend's room help convey the message. On each arrow, write a message such as, "It's Carolyn's 20th b-day today! Drop by room 212 to wish her a happy day." Dress up the signs with balloons, streamers and photos. Place the signs outside the building's elevator, in a common room and along the corridor leading to her dorm room.
Wrap the Door
College students often decorate their friends' dorm room doors, so give the door a birthday makeover before you shift your attention to the interior of the room. One approach is to wrap the entire door in colored paper and write a birthday message in large letters. Then, attach a length of string to a couple colored markers, hang them from the door with tape and invite friends and neighbors to write their birthday greetings. Magazine cutouts of the birthday boy's favorite things, such as sports or cars, help customize the door design.
Just Add Color
Inside the room, go big and bold by cutting large letters out of sheets of colored construction paper taping the letters around the room to convey a cheerful message such as, "Happy 20th birthday, Justine!" Inflate colorful balloons and tape them to the wall, hang them off the light fixture and curtain rod or fill your friend's cupboard with balloons for a surprise. Hang a series of streamers across the entrance to the room and use strings of Christmas lights to add to the party atmosphere.
Get the Party Started
If you want to ramp up the dorm room's fun factor, crank up some tunes on your friend's stereo or set up a laptop loaded with a fun music playlist to the party. Instead of the expense of renting a strobe machine, use a free strobe simulator from the Web; set your desired colors and speed of the strobe -- ideally in time with the music -- and get the party started. Have some drinks and snacks available to the party attendees before you hit the town for a night of celebrating.