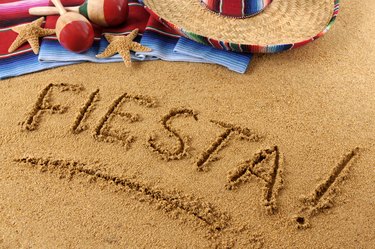 Mexican fiestas are celebrations that usually center around a particular religious or cultural holiday, such as Cinco de Mayo, a festival held annually on May 5 celebrating Mexico's independence from Spain, or Dia de los Muertos, a three-day festival in which the spirits of the dead are said to visit the living. In the United States, fiestas are more often parties that have been stripped of their traditional trappings. They're opportunities to enjoy food, beverages, games and candy.
Creating Invitations
Announce your party by creating and sending invitations in keeping with its Mexican theme. Printable invitations can be found online, but if you want to do something more creative, make your own miniature piñata invitations by gluing together piñata printables and tying a string through the middle to which the invitation is attached. When the invited guest pulls on the string, the invitation will appear. Decorate the invitation with banners and write in both English and Spanish for additional flair.
Making and Placing Decorations
Decorate the location of the party with items that suggest a festive spirit. Place a large Mexican flag on the wall in the central room, or, if you lack one of those, plant miniature flags in strategic places like the serving bar. Hang a ristra of ceramic chili peppers over the entrance to the party. Fiesta rosettes can be made by folding and taping together printed strips of colored paper.
Food and Desserts
Prepare quesadillas by frying a single tortilla in a pan and adding cheese and green onions. Once the cheese begins melting, add another tortilla on top of the first and flip the quesadilla over as needed until both sides are warm. Continue cooking tortillas until there are enough to feed everyone. Fish, beef and pulled-pork tacos take longer to make but are typically popular with party guests. Serve the tacos with tortilla or black bean soup, and provide beer, margaritas or horchata for refreshments. For dessert, make sopopillas, flan or churros. For Dia de los Muertas celebrations, children are given skulls made from sugar or chocolate with their names printed across the forehead. Bakeries provide "panes de muerto," which are round breads covered in sugar and decorated with symbols of mortality.
Party Activities
Simple piñatas can be constructed using a combination of papier-mâché, balloons and paste. Strips of old newspaper can be used to create the papier-mâché that lines that outside of the mold. These strips are carefully pasted onto a balloon using a paste made out of flour and water. Once the paste is fully dried, additional layers can be added. Leave enough room within the papier-mâché mold for the insertion of candy and other treats. Make the piñata-breaking the centerpiece of the party by situating the piñata in the center of the room near the end of the meal, when guests are getting ready to play games. "Ojo de Dios" -- or "Eye of God" -- crafts, which are created by twining yarn around craft sticks, are simple enough that children can make them. These crafts were invented by the Indians of Mexico to symbolize the constant watchfulness of God. Mexican folk art bowls can be made by decorating bowls with colorful markers and then baking them in an oven for about half an hour.