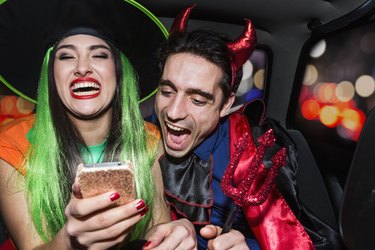 Murder mystery parties are great fun at any time of year, but are even more so around Halloween. The process of creating murder mystery costumes to wear can be just as fun as playing the game itself. If you are hosting or have been invited to a murder mystery event, remember that the better the murder mystery outfits are, the more authentic, scary and exciting the party will be.
Night of Mystery Costume Ideas
Some companies sell murder mystery event packages priced at around $50, with categories for adults, teens and kids. A wide variety is available including those that are murder-free, virtual, all-male, all-female and more. In addition, vendors design for different numbers of guests, so you can get the right amount of supplies that you need.
These kits usually include invitations, a host guide, step-by-step description of how events should unfold, "evidence" cards, "whodunnit" cards and the solution that shows who committed the crime. Kits also include award certificates; attendees vote on the best costume and other categories. Perhaps the best part is the character descriptions; this is what everyone uses for their murder mystery dress up.
If you aren't sure what the theme or time period for the mystery party is, be sure to ask your host. This can help you plan your costume. For instance, if your character is a World War Two police officer, you could wear a long trench coat, driver cap and carry a mock billy club. If your character is a sophisticated daughter of a vineyard owner, you could wear a cocktail dress, a lot of jewelry and carry a wine glass.
There is no proven way to choose guests to play the individual characters in such a game. Some hosts match up characters with guest personalities, but this can sometimes backfire if don't know your guests that well. They can also be chosen randomly, or the guests can make their own selections ahead of time. Random selections is the easiest method.
Guests are provided with character descriptions that usually include costuming and acting suggestions. Most of the costumes can be homemade, and should follow the provided descriptions. Most games do include suggestions for how to fulfill the costume requirements, using items most people have at home or can easily acquire at a thrift store.
Popular themes include a saloon or speakeasy setting, mobsters, trailer parks, circus, cruise ship and high school reunion. The best murder mystery outfits pay attention to detail, and bringing some accessories that fit the character also helps to sell the illusion. Plus, doing so makes it infinitely more enjoyable.
If you have never been to a mystery dinner theater, this sort of event can be just as much fun as a murder mystery party. Every venue has its own policies and procedures, and some include the audience in the antics. If this is the case, you may be able to dress up, too.
It is wise to look on the theater's website; it will likely have a dress code listed. Some theaters have themes like the '80s, Bridezilla and "Death of a Gangster," and they encourage their guests to dress according to the theme.
Other facilities operate a bit differently. They may request that their guests wear business casual to formal wear which should be "retro chic to elegant." They may suggest no sweat shirts, shorts, t-shirts or sneakers.