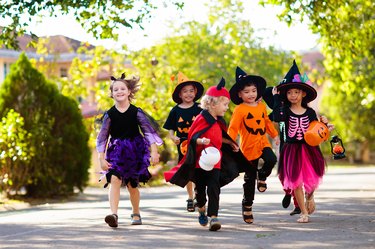 "Survivor" is returning for its 41st season, and, although you may not have made it onto the show as a contestant, there is no reason you can't dress up in a Survivor outfit for Halloween. Each year, the competitors on this show are marooned at an isolated location (in Fiji in 2021), faced with the tasks of obtaining their own shelter, fire, water and food.
There are ongoing challenges along the way, where they can get rewards or be given immunity from elimination. This time around, there are 18 castaways vying for the $1 million prize. A Survivor dress up costume is obviously much easier than competing on the show, and you can let everyone know that you are a fan if your outfit is on point.
Creating a Survivor Outfit
To get ideas for a Survivor dress up, go online and search for pictures of the contestants. Some of them have recognizable styles, but to get started, you may want to have a bathing suit. Survivor shoots in tropical settings, so this can serve as your baseline. You can also wear a pair of cargo shorts or pants and a dirty tank top. Other garments might include a torn raincoat, a baseball cap and a bandana.
Look for pictures of the best-known Survivor stars online; you can draw inspiration from these. For example, the "Dragon Slayer" wore a button-down shirt, dirty jeans and a graphic-print suit jacket. The Survivor Country Singer wore a plaid shirt tied at her waist, and denim shorts; tie-dye and camo are other popular themes. You can find wigs to match their hairstyles, too, and Survivor memorabilia like bandanas with the logo on them will help people know who you are.
Survivor contestants often have tattoos, as well, and many like to wear jewelry. Necklaces with large crosses or ones with large stones or shells hanging from them are popular. Remember, the overall goal is to look like you have spent a lot of time outdoors. Also think athletic sandals, hiking sneakers or rugged boots instead of high heels or fuzzy slippers for footwear.
Survivor Costume Finishing Touches
Each season, contestants are given immunity necklaces for winning certain challenges, and the designs can vary. They have a tropical or jungle-like design; you can buy inexpensive imitation online or try to copy them at home. And since Survivors are known to eat almost anything to survive, you could get a skewer and thread some small plastic rats onto it. For even more authenticity, smear some dirt on your body, face and clothing and put on some bandages with a bit of fake blood coming out.
If you really want to put your Survivor Outfit over the top, talk a friend into being Jeff Probst, who is the host of the show. His clothes are not terribly exciting, but if you do it right, people will know who you are. The friend can wear a light blue, long-sleeved collared denim shirt paired with a pair of cargo shorts.
He or she can roll the sleeves up above the elbows, put on a baseball cap (a Survivor logo cap would be perfect), and add a necklace with a turquoise stone and a pair of hiking sneakers. "Jeff" can also carry an immunity necklace in his hand.