This cheesy, herb-swirled bread is filled with delicious homemade pesto and gooey cheddar cheese. It's the perfect bread for spring! The pesto is made with mixed herbs so it can easily be adapted to whatever is in season. The yeasty dough is so soft, fluffy, and incredibly easy to make, too! Deliciously devour it as is, or serve it as a side. You can slice it, or serve it tear-and-share style, too!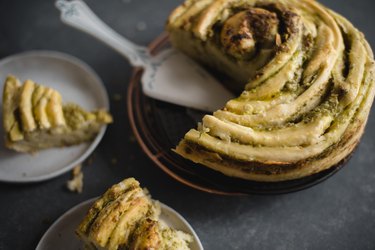 Watch the video
Things You'll Need
13.2 ounces (375 grams) all-purpose flour

1 1/2 tablespoons granulated sugar

0.6 ounces (15 grams) instant dried yeast

1 teaspoon salt

2.5 fluid ounces (75 milliliters) olive oil

5.9 fluid ounces (175 milliliters) lukewarm water

2 large eggs

3.5 ounces (100 grams) mixed fresh herbs (e.g. basil, mint, coriander, garlic scapes)

2.1 ounces (60 grams) pine nuts

2.1 ounces (60 grams) parmesan cheese, grated

2 tablespoons lemon juice

1.7 fluid ounces (50 milliliters) olive oil

pinch of salt

75 grams cheddar cheese, grated

1 lightly beaten egg, for the egg wash
Step 1: Make the dough
Add the flour, sugar, yeast and salt to the bowl of a stand mixer. Mix to combine. Add in olive oil, water and eggs. Stir until the dough is just beginning to come together. Place the bowl onto the stand mixer and knead the dough, on medium-high speed, for 7 to 10 minutes, or until very smooth and elastic. Remove from the stand mixer.
Cover the bowl with a layer of plastic wrap and set it aside in a warm place to rise until doubled in size, about 1 to 1/2 hours. Once risen, knock the dough back to deflate it. Re-cover the bowl and place it in the refrigerator to chill until firm, bout 2 to 3 hours, or overnight.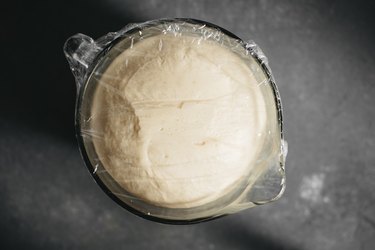 Step 2: Make the pesto
Place mixed herbs, pine nuts, parmesan cheese, lemon juice, olive oil and salt into the bowl of a food processor. Blitz, on high speed, until the mixture is smooth. Set aside.
Step 3: Roll the dough
On a lightly floured surface, use a floured rolling pin to roll the dough out and into a rough 20 x 15 inch (50 x 40 centimeter) rectangle. Spread the pesto over the top and to the edges of the dough. Sprinkle over cheddar cheese over the pesto.
Step 4: Slice the dough
Slice the dough into six even slices. Cut those slices in half.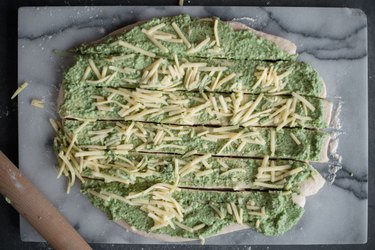 Step 5: Form the swirl loaf
Roll up the smallest dough strip. Place it on a lined 7 or 8 inch (18 or 20 centimeter) loose-bottom baking tin.
Take the next dough strip and layer it around the rolled up centre dough piece. Tightly press to seal. Repeat with the remaining dough strips until they are all used up. You will end up with a circle shape of dough. Place the baking tin ring around the dough and close the latch to seal. Cover and let rise for 1 hour or until just doubled.
Step 6: Bake
Pre-heat the oven to 350 degrees Fahrenheit (180 degrees Celsius). Glaze the dough lightly with the egg wash.
Bake, for 45 minutes to 1 hour, or until golden on the top and a skewer inserted into the middle comes out clean. Remove from the oven and let cool for 5 minutes before removing the baking tin ring.
Step 7: Serve
Slice and serve. It's best served warm on the day of making, but can also be kept stored in an airtight container at room temperature for up to three days. Re-heat before eating.