I'll admit, candy-making is not exactly my forte. It's an exact science and, as such, requires proper instruments, precise timing, careful tempering, yada yada. Sometimes — OK, actually most of the time — I just want something decadent and yummy without all the fuss, which is not always an easy feat for a low-carb eater. That's when I whip up these simple, low-effort, low-carb dark chocolate truffles using only four basic ingredients. If you're a truffle-making pro, you'll see that I take a few shortcuts here -- so the resulting truffles may not be the elegant, velvety, picture-perfect morsels that you're used to. But the taste? I doubt any chocolate lover would complain once they took a bite.
Things You'll Need
1 cup heavy cream


4 ounces unsweetened chocolate OR sugar-free semi-sweet chocolate of your choice (such as ChocoPerfection)


½ cup powdered sweetener (I prefer Swerve) OR skip if using sugar-free semi-sweet chocolate

2 tablespoons salted butter


Optional: dutch-processed cocoa powder, chopped nuts, other desired coatings

Tip
Not a low carber? Simply substitute regular powdered sugar or use semi-sweet chocolate bars. This particular recipe calls for powdered sweetener as it allows low carbers to choose their preferred sugar-free sweetener.
Step 1
Simmer heavy cream and powdered sweetener (if using) in a saucepan over medium-low heat, stirring constantly until the sweetener has completely dissolved. Don't stop stirring, as you don't want your cream to scorch.
Stir in butter and chopped chocolate, then continue stirring until it's a smooth and glossy chocolate ganache. Once you've reached that stage, immediately remove from heat.
Step 2
Pour ganache into a bowl and chill it in the fridge for about an hour, or until it's firm enough to mold.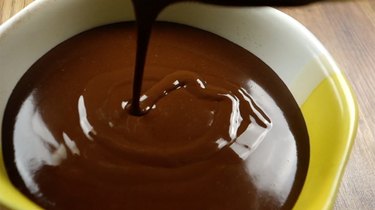 Step 3
Roll out some parchment paper over your work surface. Take a spoon and scoop up some ganache. Using another spoon, push the spoonful of ganache onto the parchment paper in a mound. Continue until your ganache has been all scooped up. This recipe yields about 16 truffles, depending on individual size.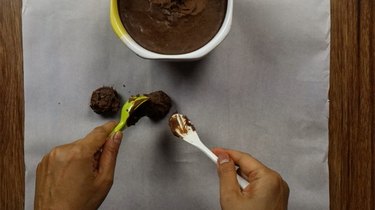 Step 4
Now, traditionally, you would chill these mounds of ganache until they've firmed up some more, roll them into balls, coat with a layer of melted chocolate, then roll them around in a secondary coating. Not me! From here, I simply dust them with a bit of powdered sweetener.
Step 5
Now put them back in the fridge to firm up. Once they're firm, sprinkle with a bit more sweetener if desired and enjoy your no-fuss treats!
Optional toppers
For a bit of variety (and also because I happened to have these ingredients in my cupboard), I made a second batch of truffles and, before chilling, sprinkled a few with roasted chopped pecans and dutch-processed cocoa powder mixed (to taste) with powdered sweetener. Go crazy here and use whatever floats your boat. A few ideas: coarse sea salt, chili powder, cinnamon, flaked coconut.
Tip
Note: These truffles are best eaten right away! If you must store, use the same methods as you would regular homemade truffles — store in fridge (or freeze) in an airtight container and wait until they come up to room temp before eating. However, keep in mind that this recipe is a shortcut version (not a lot of care went into tempering them), so the sweetener will crystallize when frozen.