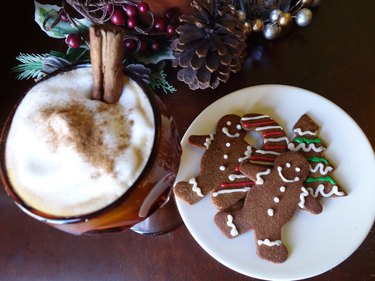 Hear ye, hear ye, grain-free and low-carb folks—your search for the perfect holiday gluten-free, low-sugar gingerbread cookie is ‌over‌. Does a sugar-free (okay, sugar-free ish) treat with almost no carbohydrates sound like your cookie dough dream? Well after you try this recipe for yourself, you'll understand why.
These Christmas cookies are super moist, keto-friendly, can be made either chewy or crispy and they're easy to whip up. You don't have to chill the dough beforehand, plus rolling and cutting out shapes is a cinch. Why? Because it's not as sticky as traditional wheat flour dough.
In no time, your house will be filled with the festive aroma of fresh-baked gingerbread. And, at around 1 to 2 net carbs and less than a gram of sugar per cookie, there will be plenty of cause for celebration. So yeah, that makes these the keto gingerbread cookies you need right now!
Things You'll Need
2 cups blanched almond flour

1/8 to 1/4 cup coconut flour (see recipe for adjustment instructions)

1/2 cup sweetener (we used Swerve brand erythritol blend)

1 1/2

Tbsp.

ground ginger

1/2

tsp.

ground cloves

1

Tbsp. ground cinnamon

2

tsp.

no-carb baking powder

1/2

tsp.

xanthan gum

1/4

tsp.

salt

2 large eggs

1/4 cup butter, melted

1 1/2

Tbsp.

molasses

1 lb. powdered sweetener (optional, for icing)

3 Tbsp. meringue powder (optional, for icing)

Food coloring (optional, for icing)
1. Combine dry ingredients
Preheat your oven to 275° Fahrenheit. Combine almond flour, coconut flour, sweetener, spices (including 1/2 tsp. ground cloves and ground cinnamon), baking powder, xanthan gum and salt in a large mixing bowl. Whisk to combine.
Tip
Adjust amount of coconut flour, between 1/8 to 1/4 cup, depending on how soft or firm you like your low-carb gingerbread cookies to be. Bear in mind that coconut flour sucks up a lot of moisture, which may result in dry cookies if too much is used. Also keep in mind that you might want to use some coconut flour to dust your rolling pin later, so you may consider using less in your dough if you plan to dust.
Add eggs, melted butter, and molasses to the dry ingredients, then mix thoroughly with your hands to form a dough for this delish keto gingerbread cookie recipe! Keep in mind, these are not dairy-free holiday cookies if you use real milk butter.
Due to the fat content, the dough shouldn't be very sticky once you've thoroughly incorporated all of the ingredients, making it easy to handle.
3. Roll the gingerbread dough
Separate the dough into two equal parts, setting one half aside in a medium bowl. On a piece of parchment paper, roll out one part of the dough to about 1/6 to 1/4 inch thickness with a rolling pin. The thicker the cookie, the softer it will be. If the dough sticks to the rolling pin, dust it with a little bit of coconut flour. You should only need a little, as the dough shouldn't be very sticky.
Warning
Take care, as adding too much coconut flour will dry out your dough. Alternatively, you can lay another piece of parchment paper over the dough, and roll on top of the paper to avoid using additional coconut flour.
4. Cut out festive shapes
Now grab your holiday cookie cutters and cut out your desired shapes. The gingerbread men cutters we used are 3 1/2 x 3 inches.
Take the excess dough and roll out again (on more sheets of parchment paper) to cut out more shapes. Since there's no gluten in this dough, you don't have to worry about "overworking" it, so roll out and cut as often as needed until you've used it all up.
Tip
Even though gingerbread men are the standard, you can choose other shapes. Get artsy and put together a super-serving size of bells, bows and other festive faves.
Roll the second half of the dough that you had set aside on another piece of parchment paper. Use the gingerbread men shaped cookie cutters to make more!
Transfer your unbaked gingerbread to a parchment-lined cookie sheet. You can use a cookie lifter or spatula if desired, but we find that, because of the non-stickiness and firmness of the dough, the unbaked cutouts are easily lifted by hand without losing their shape.
Bake the cookies at 275° F for 18 to 20 minutes (depending on how thin you cut your cookies). They're terrific with or without icing. This recipe yields about 3 1/2 dozen cookies, depending on the size of your cutters.
Warning
Different ovens may require slightly different bake times. If the cookies start to burn at the edges, remove them ASAP!
Place the gingerbread men cookies on a cooling rack. Yes, we know it's not easy to keep from nabbing a few of these toasty-warm, best keto gingerbread cookies ASAP. After they cool completely, place the holiday cookies into an airtight container or cover them with plastic wrap.
If you want super low-key cookies, serve them as is or with a dusting of powdered sweetener. But if you've got your heart set on decorating your cookies in the traditional fashion, you can do so and keep them low-carb by whipping up some low-carb royal icing or your fave keto cream cheese frosting recipe.
To make low-carb royal icing, simply mix 1 lb. confectioners sweetener, 3 rounded Tbsp. meringue powder, and 6 to 8 Tbsp. warm water. Leave your icing white, or add drops of food coloring until you get your desired color. Pipe the icing onto your cookies any which way you please.
Tip
Use low-sugar or sugar-free candies to decorate the gingerbread men.
Know someone new to low-carb eating who's struggling to make it through the holiday season? These gluten-free, low-carb gingerbread cookies would make the perfect gift. Make one mega-serving size of just the gingerbread men or add these paleo treats in with a dozen chocolate chip cookies or Christmas sugar cookies. And don't forget to include the nutrition information!