Custom ornaments are one of my favorite things to make with my kids during holidays. These no-bake salt dough ornaments are easy to make with the whole family — all you need are a few basic household ingredients to whip up a batch. Costing less than $10 in supplies, they are budget friendly, too!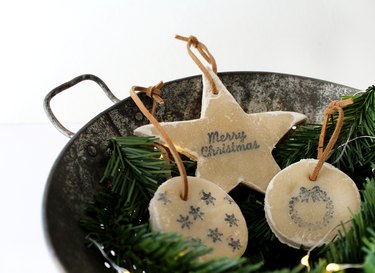 Things You'll Need
2 cups all-purpose bleached flour

1 cup salt

1 cup warm water

1 tablespoon vegetable or olive oil (optional)

Mixing bowl

Rolling pin

Cookie cutters

Straw

Cookie sheet or flat, strong surface

Parchment paper

Paint markers and stamps for decorating

3mm suede lace
Tip
This recipe makes 10-12 medium ornaments.
Step 1
Add 2 cups all-purpose flour to a mixing bowl.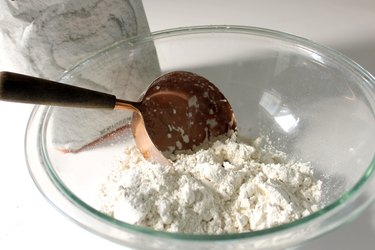 Step 2
Step 3
Pour 1 cup of warm water over the dry ingredients. Stir the mixture until it's well combined.
Step 4
If the dough is sticky, add 1 tablespoon cooking oil.
Step 5
Roll out the dough with a rolling pin until it's about 1/4-inch thick.
Step 6
Cut dough with cookie cutters into desired shapes.
Step 7
Use a straw to create holes for hanging.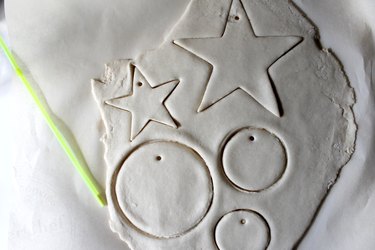 Step 8
Remove excess dough from around ornaments and roll out the remaining dough to make additional ornaments. Line a cookie sheet with parchment paper and place the ornaments on the paper to dry.
Step 9
Flip ornaments every 24 hours until dry. The drying process will take 3-4 days depending on humidity.
Step 10
Decorate! Use holiday stamps and an ink pad to create rustic, vintage-looking designs. You can also decorate them with paint or paint pens to create custom ornaments.
Step 11
Cut 8-inch long pieces of suede lace for each ornament. Thread through ornament holes and tie a knot to secure.
Your ornaments are ready to hang on your tree or give as personalized gifts. This is a fun, easy craft project the whole family can enjoy together!
Tip
Salt dough ornaments can be fragile, pack with tissue in a gift box or when storing.