There's nothing like the vibrant flavors of a sun-ripened, garden-fresh vegetable that has been picked and eaten without stepping off your property. With summer comes a whole wealth of new fruits, veggies and herbs just begging to be grown, so you'll want to make sure you're ready to spend quality time in your garden. Soak up the sun, while creating your own personalized produce section, with these 10 tips on how to make your garden the ideal sunny hideaway.
Choose the Best Vegetables for Your Summer Plot
It can be overwhelming when deciding what to plant for the summer. There are, after all, so many fruits and veggies that could be planted during these months. But that's why we've got you covered with the perfect guide on which vegetables to grow in your garden this summer, giving you a blend of delicious options that won't present a challenge, even if you're still a little new to gardening.
Put Design First for the Perfect Herb Garden
If you don't yet have an herb garden, it can make a strong addition to your summer plans. The great thing about an herb garden is that you don't need acres of land to create your perfect space — you just need creativity. Learn everything from how to design a beautiful herb garden to what's required for success to end up with a personalized plot that fits into your lifestyle.
Work With the Space You Have
If you've thoroughly exhausted your outdoor space but yearn for more to grow, then chances are you haven't thought about the possibilities of a vertical garden. Also known as a "living wall," vertical gardens can be mounted and moved around as needed. Learn how to build a vertical garden to work with the space you have and expand your gardening options for the summer.
Bring Summer Inside with an Indoor Mini Garden
Create a Summery Outdoor Display
Even after you've brought the gardening fun indoors, you might still be aching for more summery color and an artful gardening display. Show off your favorite summer flowers with a vertical clay pot garden. It's a project that will only take a couple of hours, but it'll bring a smile to your face every time you step outside.
Customize Your Terra Cotta Pots, Over and Over Again
Now that you're open to gardening in and out of your home, you can start planting away in terra cotta pots (for the nook and cranny you might have missed, of course). Have a little fun with your extra gardening accessories by making chalkboard-patterned terra cotta pots. Simply paint them with chalkboard paint, and you'll give yourself the liberty to design now and redesign later.
Make Your Garden Sing
What's a summer garden without the soft sound of chimes during a cool summer evening breeze? Learn how to make a wind chime to really get your garden ready for summer — it will be 10 times more enjoyable when the sounds are as pleasant as the surrounding sights and tastes.
Create the Perfect Vantage Point to Enjoy Your Garden
Because it's summer, and because you have a beautiful garden, you'll want a variety of seating options to spend more time outside. For one of these perfect garden-watching spots (that also complements the garden aesthetic), make a simple outdoor bench using basic construction materials. It will be far cheaper than traditional patio furniture, and you can customize it with whichever bright summer colors match your fancy.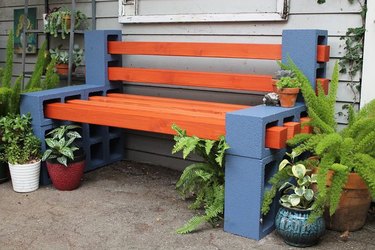 Bring Even More Flavor to Your Garden
While your garden is almost complete, you might be looking for that finishing touch to add your own last bit of flavor to the sanctuary you've worked so hard to build. A fabric windsock is just the answer, soft and subtle enough to never overwhelm the natural beauty of your garden. Make your own fabric windsock, choosing the perfect colors and patterns to complement your summer plot.
Give Your Finished View a Rustic Side Table
While you're up on the patio, enjoying the view of your garden and tasting the food you've grown, you'll need a trusty sidekick to hold your drink, book or still-sun-warm tomato. And what better side table for your summer of gardening than one carved right from the trunk of a tree? Make a geometric log side table that has the beautifully natural look of a cabin home and the rustic feel of a mountainside campout. You'll feel like it's a summer vacation that you never have to leave.