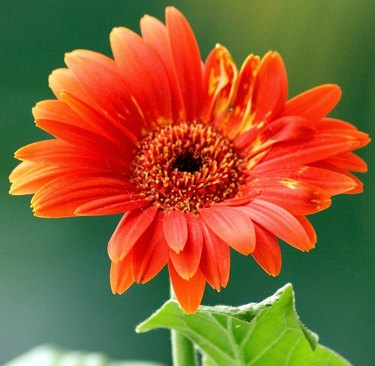 Gerber daisies, also known as Gerbera daisies, known for their tall slender stems and large round flowers, are found in a wide range of colors. According to the Alabama Cooperative Extension System (ACES), blooms frequently measure 3 ½ to 5 inches across.
History
Robert Jameson discovered the Gerber daisy in 1880 near Barberton, South Africa. Although the Gerber daisy was introduced to Europe in the nineteenth century, it did not become popular in the United States until the 1970s, when University of California, Davis, began breeding the flowers.
Ideal Temperatures
According to ACES, Gerbers should be grown in night temperatures of 68 to 70 degrees Fahrenheit until the root system is established. Afterward, the flower thrives best in daytime temperatures around 75 degrees.
Heat Tolerance
According to the National Gardening Association, Gerber daisies may be grown in heat hardiness zones 8 through 12, where temperatures are frequently around 86 degrees, more than 150 days a year. Hardiness zones help gardeners determine which plants will grow best in their area, based on local average temperatures.
Cold Tolerance
Gerber daisies may be exposed to frost; however, freezing will kill the plant. AA Florist notes that minimum greenhouse temperatures are 40 degrees.
Water Levels
Since Gerbers are native to dry regions, they prefer to experience dry spells between watering. According to ACES, too much water may promote soil borne illness.