Backyard games go with summer like peanut butter goes with jelly, and this giant version of tic-tac-toe is perfect for a blue-sky day on soft grass. This simple DIY can be made in an afternoon, and it will be a hit at any barbecue, outdoor movie night or beach party. Not only will it please any guest — whether the friendly competitors are three years old or 60 years old — but the game will also inspire laughter and create lasting memories. Plus, when the fun is through, you can place the board and its pieces inside a personalized tote bag. It's as easy as spotting three "X"s in a row.
Things You'll Need
Nylon rope, 50 feet

Cardstock

Artificial grass outdoor carpet, 4 feet x 6 feet

String, 200 feet

White marker or chalk

Scissors

Spray paint primer

Spray paint in 4 colors

Hot glue gun and glue sticks

Large canvas bag

Fabric paint in 3 colors

Paintbrush
Step 1: Build the Game Board
Measure 6 feet x 6 feet of nylon rope and lay it out in a square shape. Then, cut four more 6-foot pieces. Create a grid on the square by placing two pieces horizontally and two pieces vertically. The four pieces should be spaced 2 feet apart and have overhang on each end.
Step 2: Glue the Rope Together
Use a dab of hot glue to hold each piece in place. Hot glue works really well for this project because it melts the nylon just enough to bind each piece together. Continue to glue each overlapping piece until all intersections are fused.
Step 3: Wrap it With String to Secure
Next, secure each intersecting point with additional glue and string. Start by creating an "X" with hot glue, and then wrap the string around the two pieces and into the glue. After, add a bit more glue to each edge and wrap them with string again. If you are working on an outside joint, trim the excess rope once you have glued down the "X." Solder the loose edge by adding hot glue liberally until it is covered, and then continue to wrap the string around the joint. Secure the end of the string with another dab of hot glue.
Warning
Hot glue guns should be used with caution and by adults only.
Step 4: Create the Giant Game Board Pieces
Create "X" and "O" templates on a 12-inch x 12-inch piece of cardstock for each game board piece. Use scissors to carefully cut out each template.
Step 5: Flip Over, Trace and Cut the Artificial Grass
Flip over the 4-foot x 6-foot piece of artificial grass carpet so that you can trace out five of each "X" and "O" template. Once the templates have been traced, use scissors to cut out each game piece.
Step 6: Prime and Paint Each Piece
Flip over all of the game pieces and spray paint them with primer. Allow the primer to dry before picking out a few fun colors to add personality to your board. If you are making this for a gift, it would be fun to coordinate shades with the event.
Tip
Leaving the pieces green on one side and painted on the reverse side allows the game to be played on a number of different surfaces. If the game is being played on grass, the colored side stands out more. If you are at the beach, using the grass side will work better.
Step 7: Finish with a Coordinating Tote Bag
Place a piece of paper on the inside of a canvas tote bag. Create a simple tic-tac-toe icon on the front of the tote bag with black paint, using the size of the paper as a guide. Then, finish the picture by painting "X" and "O" shapes in the same colors as your giant game board.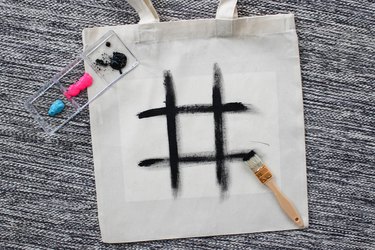 Step 8: Play, Play, Play!
Now, it's time to play with a partner! In case you need a refresher, the goal of tic-tac-toe is to get three pieces in a row, including diagonally: one person plays the "X" pieces and the other person plays the "O" pieces. Whoever can outsmart their opponent wins!