Nothing says "comfort" like a piping hot hearty bowl of chicken and rice soup during the chilly fall and winter months. For those who are busy, this easy slow cooker soup can be prepared in the morning before you leave for the day. Simply set it and forget it! You'll walk in the door to its delicious scent, and the best part is the whole recipe only requires 15 to 20 minutes of preparation.
Things You'll Need
3 tablespoons olive oil

1 large yellow onion, diced

2 large carrots, peeled and chopped

2 stalks celery, chopped

4 cloves garlic, minced

1/2 cup brown rice

1 teaspoon Italian seasoning

1 teaspoon dried oregano

1 teaspoon dried basil

1/2 teaspoon sea salt, or to taste

1 pound boneless skinless chicken breasts, chopped

4 cups low-sodium chicken broth
Step 1: Saute the Vegetables
Add the oil, chopped onion, carrot, and celery to a large skillet and heat to medium-high. Saute, stirring occasionally, until onion begins to turn translucent, about 8 to 10 minutes.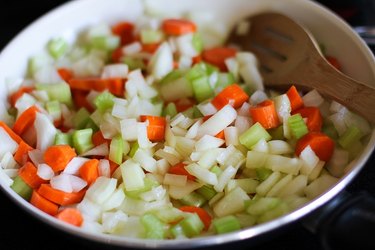 While the vegetables are sauteing, soak the rice in water.
Drain the rice and add it to the skillet with the vegetables, along with the garlic, Italian seasoning, dried oregano, dried basil and salt. Saute another 3 minutes, until the garlic becomes very fragrant.
Step 2: Transfer Ingredients to a Slow Cooker
Transfer the sauteed vegetable and rice mixture to a large slow cooker. (The one used in this recipe is a 6-quart.)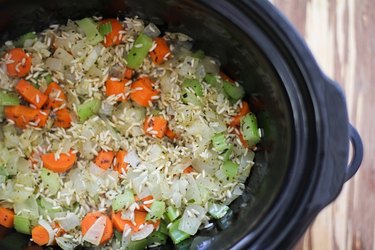 Add the raw chopped chicken to the slow cooker.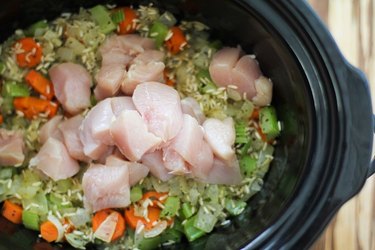 Pour the chicken broth into the slow cooker and stir everything together well.
Step 3: Set It and Forget It!
Secure the lid of the slow cooker, plug it in, and turn it on to its lowest setting. Allow the soup to cook 6 to 8 hours on low. If possible, stir the soup every 2 hours.
Step 4: Give a Final Stir Before Serving
Remove the lid of the slow cooker and stir the soup well. The soup is done when it is thick, the chicken is cooked through, and the rice is puffy. Serve in large bowls with bread or crackers.
More Chicken Recipes
Want more cooking with chicken recipes? Serve these delicious meals!