Give your books a pop of color and personality with yarn pompom bookmarks with just some yarn, your fingers and scissors. Get creative with different solid or multicolor yarn, and make various bookmarks to coordinate with their covers, your decor or any favorite color.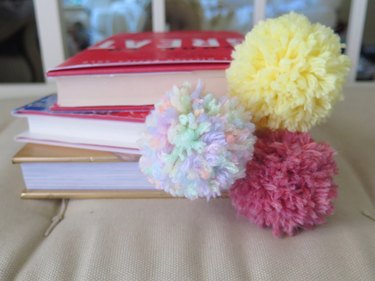 Things You'll Need
Yarn (any color)

Scissors

Card stock paper
Step 1: Wrap the Yarn
Grab the end of the yarn and hold it in place against your index finger with your thumb. Wrap around your four fingers at least 90 times. Keep your fingers straight and together while wrapping the yarn around.
Step 2: Slip Off and Snip
Carefully slip the wrapped yarn off of your fingers and cut the end of the yarn with scissors.
Step 3: Tie the Wrapped Yarn
Leave the bundle of wrapped yarn to the side and cut a separate piece of yarn 12 inches long. Lay the 12-inch piece of yarn flat on a surface horizontally.
Place the bundle of yarn horizontally on top of the yarn piece, in the middle. Take each end of the 12-inch piece of yarn and tie it tightly around the bundle. Finish with a double knot.
Step 4: Add a Tail
Cut another piece of yarn 15 inches long and place it vertically on top of the double knot in the center of the yarn bundle, allowing for 2 inches of yarn to peek out at the top and the rest of the yarn to create a long tail below. Take each end of the double-knotted piece of yarn double-knot it again around the 15-inch piece of yarn.
Step 5: Cut the Yarn Bundle
Take the scissors and cut through all of the loops of the yarn bundle. If you miss a few loops with the initial cut, go back and cut those loops. Your yarn bundle will look like a messy bunch of yarn. Do not cut the yarn tail.
Step 6: Trim the Yarn
Create the fluffy pompom shape by trimming the straggly pieces of yarn.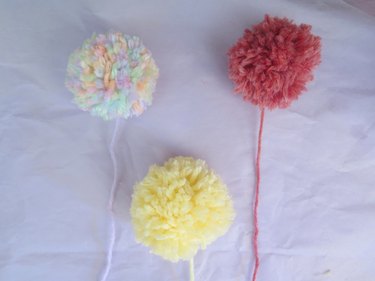 Step 7: Add Card Stock Paper (Optional)
Skip to the next step if you want to keep your yarn pompom bookmark as-is.
Cut down a piece of card stock paper to your desired size and draw or decorate the card stock if you'd like. Punch a hole at the center top of the card stock and lace the tail of the pompom once or twice through the hole. Knot the tail under the pompom, and cut the excess piece of yarn.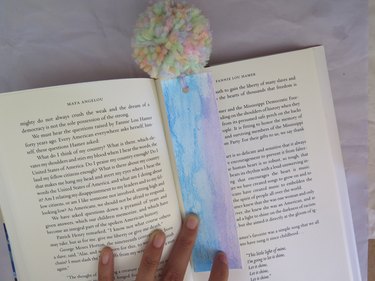 Step 8: Mark Your Book Pages
To mark the page in a book, place the yarn pompom at the top of the page and tuck the tail of the pompom or card stock bookmark into the center crease of the book pages.