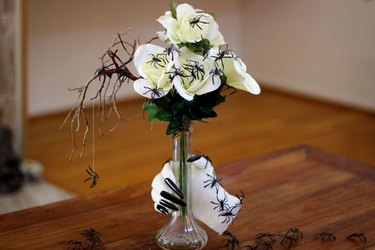 Things You'll Need
White silk roses

Branch

Bud vase

White latex glove

Polyester batting

Wire

Press on nails

Glue dots

Plastic spiders

Thread
One does not typically think of flowers for Halloween, but this unique floral arrangement of creepy Halloween flowers fits the occasion perfectly, and it won't break the bank when you shop for cheap materials. While the flowers may be beautiful, they are overrun by crawling spiders. And for the ultimate eek factor, a ghostly white dismembered hand is holding the arrangement.
Making the Halloween Floral Arrangement
Create the Bendable Fingers
Start with a latex glove, which you can find in art supply stores. To fill out the fingers of the glove and make them bendable, we will use polyester batting and bendable wire. Cut pieces of wire that are longer than each finger, and cut pieces of batting that are about 4" x 5". Wrap the batting around the wire, folding the batting over one end so the wire does not poke through.
Put the Fingers Into the Glove
Insert each of the wire fingers in the glove, working slowly so that the wire does not go through the batting and through the glove. When the fingers of the glove are filled out, add additional batting to the palm of the hand.
Create a Creepy Dismembered Hand
Bend the wires inside the fingers so it looks like the hand is holding something. Look at your own hand for reference to see how fingers naturally bend.
Give the Hand Some Scary Nails
Add press-on nails to the fingertips to make the hand even creepier. The long black nails are from a costume store, but you can also use regular nails from a drug store or beauty supply retailer. They come with adhesive strips that you can use to attach to the fingertips. Choose either black or red nail polish to color the nails.
Grab the Budvase With the Hand
Wrap the hand around a bud vase. Secure it in place with glue dots at contact points so the hand stays in place. Adjust the fingers if necessary so that the grasp looks realistic.
Add Creepy Flowers to the Budvase
Place white silk flowers in the bud vase, along with a small branch. Try flowers that are more typical for funerals, like roses, orchids or mums rather than cheery blooms such as daisies. You can use real flowers, but silk blossoms will allow you to display this arrangement throughout the Halloween season – and save your creepy Halloween flowers for next year.
Position small black plastic spiders all over the flowers, vase and hand so that it appears that they are swarming. Keep them in place with glue dots.
Spiders, Spiders Everywhere
Tie a thread to the branch and dangle a spider from it. You can either tie the spider to the thread or use a glue dot. Add plenty of additional plastic spiders around the arrangement and scatter them over the tabletop to complete the scary effect of your creepy Halloween flowers.
Warning
Keep the little plastic spiders away from small children, as they can be harmful if swallowed.