One of the most important things to have at any picnic, besides the food, is a picnic blanket. Even if you're sitting at a table, a blanket provides an additional spot to sit, relax and dine alfresco. This DIY picnic blanket features a waterproof backing to withstand wet grass, corner pockets for rock anchor weights, and handy carrying straps. Even the ants would be impressed.
Things You'll Need
2 yards of fleece, or other soft fabric
Vinyl shower curtain
Scissors
Hobby knife
Paper clips
Web belting
Sewing machine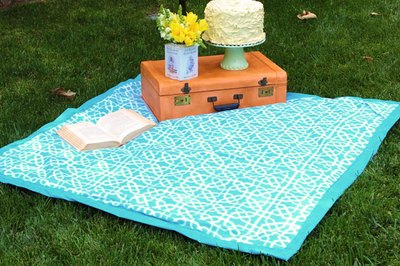 Step 1
Cut fleece fabric to 48" x 48". One of the advantages of fleece is that it does not fray, so the edges do not need to be turned in and hemmed. (You can also create a larger blanket than 48" x 48" if you wish.)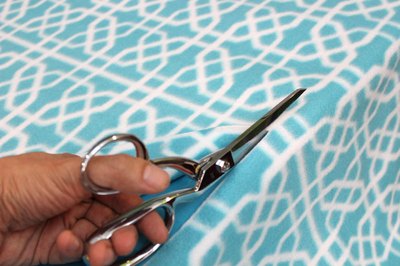 Step 2
For a waterproof backing, select a vinyl shower curtain in a coordinating color or pattern. You can also use oil cloth or a vinyl tablecloth. Place the shower curtain under the 48" x 48" fleece, and cut the vinyl so it is 2" wider all around. To get a straight cut on the vinyl, use a hobby knife and a straight edge instead of scissors.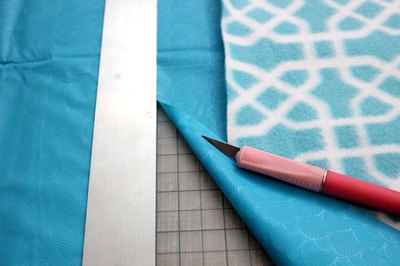 Step 3
Cut a triangular piece of fleece, about 6" to 8", for each of the four corners; these pieces will serve as the pockets for rocks that will help weigh down the blanket in case of wind.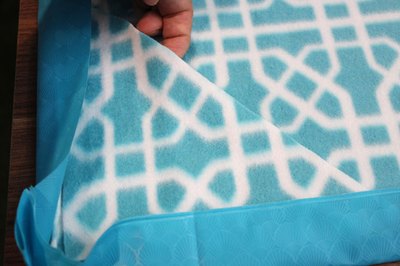 Step 4
Fold the vinyl over the the fleece to create a border. Hold the two layers in place with paper clips.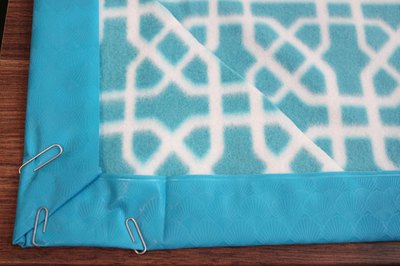 Step 5
Sew the two layers together at the inside edge of the vinyl until all four sides are completed. (Note: Sewing the edges of the blanket can be challenging because of the size. Have someone help you keep the blanket straight as it's going through the sewing machine.)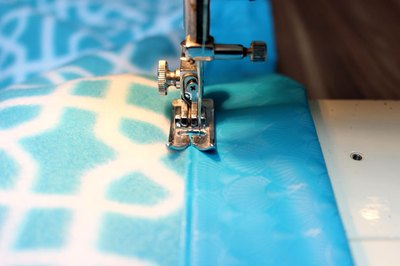 Step 6
When the blanket is sewn together, fold it in half and then fold again so you have one long folded blanket that is 12" x 48". Then fold this length in half, and in half again so you have a folded blanket of 12" x 12". Cut two 12" - 14" lengths of web belting and determine where on the folded blanket you would like the handles to be. Make sure that the two handles are the same size and are placed in symmetrical places on opposite sides of the folded blanket. Mark with some tape so you remember where to sew.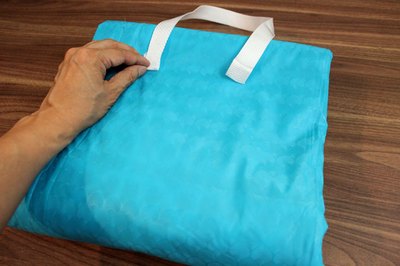 Step 7
Fold the ends of the straps so the frayed edges are hidden, and sew the straps to the blanket at the places you indicated with tape. Now the blanket can be easily carried around when it is folded.
Step 8
When picnicking, place rocks in the corner pockets to weigh down the blanket. You can also use these pockets to hide that last cookie. wink