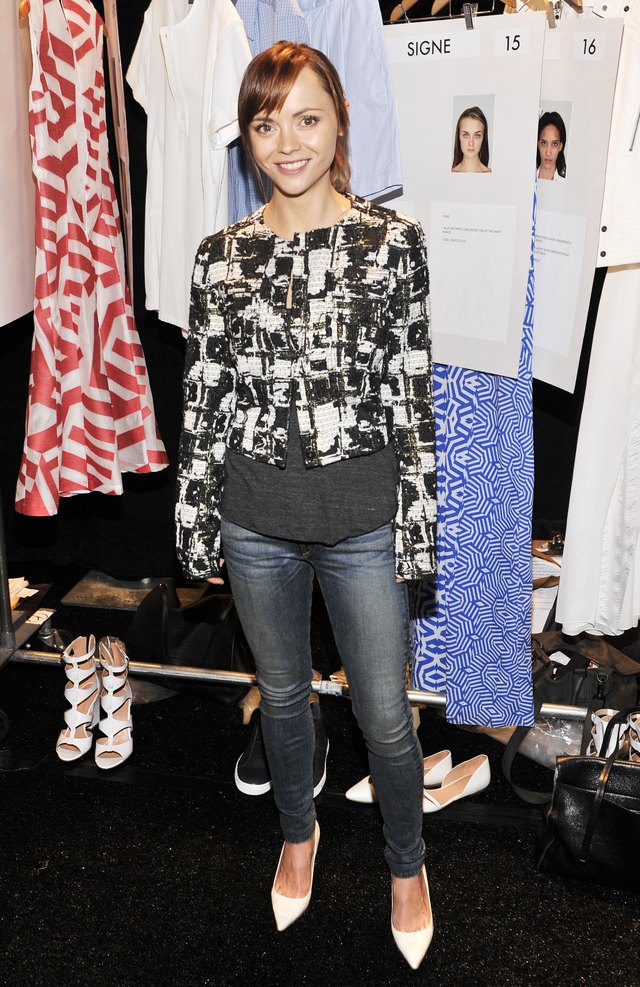 If your second-skin jeggings are looking like droopy-drawer jeans, just shrink and tighten them to breathe new life into your favorite blues. Wear and tear, several washes and a low percentage of stretch fibers often cause your formfitting bottoms to sag and stretch around wear-pattern areas, such as your hips, thighs and knees. So, if your blues are headed for the landfill, unpack and revive your much-loved bottoms by taking a few do-it-yourself steps to shrink them at home. If that doesn't work, you can visit your local tailor to tinker with the seams and tighten your jeggings for a restyled, customized look.
Things You'll Need
All-purpose liquid laundry detergent
Mesh laundry rack
Full-length mirror
Dressmaker pins
Safety pins
Extra pair of fitted jeggings or skinny jeans
Shoes
DIY Shrinkage
Step 1
Read the fiber-content label. Stretch cotton blends with a high percentage of cotton are prone to shrinkage, but those with a low percentage of spandex -- generally less than 5 percent -- have less fabric recovery when the textile is stretched during natural movement. Stretch cotton blends with a high percentage of spandex -- 5 percent or more -- are prone to damage in the high-heat settings used for shrinking cotton, causing the synthetic fibers to weaken, break down and eventually lose elasticity.
Step 2
Set your washing machine cycle to a hot-water temperature setting, even if the label suggests a cold-water wash. Turn your jeggings inside out and machine wash with an all-purpose liquid laundry detergent.
Step 3
Lay the jeggings on a mesh laundry rack and dry flat if your jeggings have a high percentage of spandex. Do not hang the bottoms to avoid stretching the fibers. If your jeggings have a low percentage of spandex, button the waistband and zipper the fly front. Turn the bottoms inside out. Toss them into the dryer at a high-heat setting to shrink them.
Step 4
Try on your dry jeggings in front of a full-length mirror. Look at the fitted contour along the side seams as well as the fit around your wear patterns -- front pockets, front rise, hips, back seat, thighs and knees.
Step 5
Check the bottom hem length. If your jeggings have a high cotton percentage, the bottoms are prone to shrink crosswise and lengthwise.
Step 6
Sit in a chair and check for comfort around the seat, thighs and knees. Make sure the bottom hem is not hiking up.
Step 7
Rewash your jeggings again in hot water if you're not satisfied with the fit or length. Dry flat or in your dryer, depending on the stretch blend. Skip this step if you're happy with the results.
Resize and Tailor Your Jeggings
Step 1
Turn your jeggings inside out and slip them on. Button the waistband and zipper the fly front. Have a friend pin the right and left side seams with dressmaker or safety pins. Pin along the waistband, upper and lower thigh as well as the knee and calf area.
Step 2
Pin the inseam. Adjust the side seam pins if you begin to experience an uncomfortable fit.
Step 3
Repin the knee, leaving bending room for natural movement and sitting. You can have your friend pin across the front and back of the knee as a guide for your tailor.
Step 4
Pin the bottom hem if you want to shorten the jeggings. For a customized and accurate length, put on the heels or shoes you regularly wear with your bottoms.
Step 5
Take the jeggings off and carefully turn them inside out to review the side seams, inseam and length. If your bottoms have rivets, pocket detailing or embroidery, you may lose these details with the tailored side seam. If your jeggings have back pockets, their positions can shift as you take in the side seams.
Step 6
Pack a pair of jeggings or skinny jeans that fit you as a guide for your tailor. If you're adjusting the length, pack your shoes. You can also take any fit adjustment notes you made at home to direct your tailor. Although this step is optional, remember that tailoring is not free and any additional adjustments affect your cost.
Tip
Even if you're satisfied with the result from shrinking your jeggings at home, stretch blends are prone to stretch out again and you will have to repeat the process.
Warning
Be mindful of hot metal trims -- button, zipper and rivets -- when removing jeggings from the dryer.

Preshrunk jeans do not shrink. Visit your tailor to take in seams and customize your jeggings.