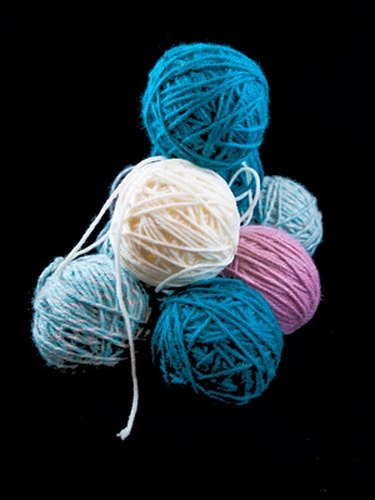 Loom knitting is a popular craft. You can make a wide variety of projects with no previous knitting experience. If you can wrap yarn around pegs, you can loom knit. Hats, scarves, blankets and more are projects that are well-suited to knitting on a loom. Many patterns can be found online at sites such as Knitting on the Net or in books at your local craft store or library.
Hats
Round looms are used to knit hats. There are different-size looms available that allow you to make a wide variety of hats. Create an assortment of hats while using the same basic techniques and patterns by varying your yarn colors and weights. You can easily loom-knit a standard hat in about two hours. Hats can be knit in solid colors, patterns or stripes to suit everyone. Headbands, earmuff covers and hoods are also possibilities.
Scarves
Round or rectangular looms may be used to knit a scarf. You can create a tightly knit scarf using a simple e-wrap method and chunky yarn, or a light and airy scarf using an open pattern and a lightweight yarn. Vary the colors and length of the project to suit the person who will be wearing the scarf.
Mittens and Gloves
You can create mittens or gloves to match your hat and scarf by following simple patterns and experimenting to find the perfect fit. Wrist-warmers are popular items to knit on a loom, and they make great gifts, especially when paired with other cold-weather items.
Blankets
Blankets can be loom-knit on either a rectangular or a round loom. Baby blankets can be made using the largest looms. Knitting several panels and then stitching them together can make adult-size blankets. Simply change your yarn colors to create blankets that look completely different from each other.
Baby Items
Looms can be used to create baby items such as booties, sweaters, buntings and more. These knit quickly on the loom and you can use a wide variety of yarn to get the look you want.
Home Decor
Home décor items, such as throw pillows, dishtowels, scrubbies and bath items are also things that can easily be knit on a loom. Use yarn colors that coordinate with the room in which you will be using the items. Consider making some as gifts for friends and family too.
Accessories
Accessory items such as handbags, MP3 player covers, laptop covers, wallets, ornaments and more can be created on a loom. Find free patterns at Provo Craft's website, or create something using your own imagination.
Pet Items
Find one of the many free patterns for dog sweaters, then experiment with different yarns and colors to create a custom outfit for your dog. You can also loom-knit a large pillow that can work as a pet bed.