Things You'll Need
Fabric

Tape measure

Scissors

Sewing machine

Zipper

Hook-and-eye closure

Electric iron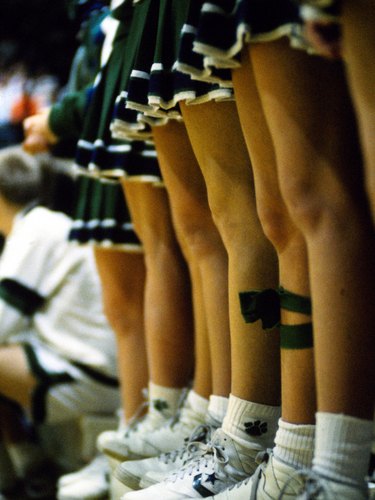 You can make a pleated cheerleader skirt for a costume or competition yourself without having to hire a tailor or seamstress. Although sewing a pleated skirt may sound complicated, a pleat is really just a fold over a fabric and creating one is easier than you probably think.
Step 1
Measure the waistline. Take the length measurement of the skirt. To do this, measure from the waistline down to the part of the legs where you want the bottom of the skirt to be.
Step 2
Add 1.5 inches to the length measurement of the skirt. Multiply the waistline measurement by 3, and then add 1 inch. For example, if the waistline measures 24 inches, multiply it by 3 and then add 1 inch, which makes it 73 inches. If the length of the skirt is 20 inches, add 1.5 inch to make it 21.5 inches.
Step 3
Cut the fabric according to your measurements, in this case 21.5 inches by 73 inches.
Step 4
Fold the fabric with the right sides of the fabric together to make a tube that will serve as the body of the skirt. Sew along the edge where the two sides of the fabric meet. Leave a 7-inch opening for the zipper.
Step 5
Stitch the bottom edges of the skirt with a 1.5 inch hem.
Step 6
Turn the skirt inside out. Pin pleats 1 or 2 inches wide along the body of the skirt. Press the pleats using an electric iron. Stitch along the uppermost edge of the skirt to sew them in place.
Step 7
Cut fabric 5-inches wide, with length similar to the measurement of the waistline.
Step 8
Fold the waistband over the top edges of the skirt, with 2.5 inches covering down the front and the other 2.5 inches on the rear edge. Fold the raw edge 1/2 inch under, leaving a 2-inch waistband on both the front and back portions of the skirt.
Step 9
Stitch along the folded edge 1/8 inch from the edge of the waistband to sew it in place.
Step 10
Attach the zipper and the hook-and-eye closure.