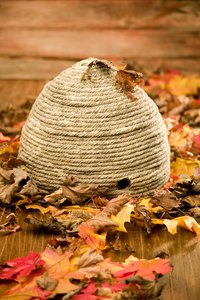 Beehives are built in different ways and a variety of places. Bees are known to hive in natural areas like a hollow tree log or in a building's exterior crevices. Beekeepers build bee houses from which they can easily gather honey. And there are the familiar yellow or tan igloo-shaped hives seen in children's books and cartoons like Winnie the Pooh. A beehive costume can be any of these types of hives, but are generally available in the igloo-shaped style. Make a beehive costume that is easy for children or adults to put on and wear.
Things You'll Need
Plastic flannel-backed tablecloth
Yellow expanding spray-on insulation foam
Pipe cleaners
Craft bees
Yarn pieces
Hot glue gun
Yellow T-shirt
Yellow stocking cap (optional)
Measure across the shoulders of an adult or child. Measure again from the shoulders to the waist.
Fold an old flannel-backed plastic tablecloth in half. Mark the width of the shoulders along the fold line. Mark the length from the shoulder line to the waistline. Cut out the marked piece.
Fold the still-folded costume piece in half along the shoulder line, to locate the center of the shoulder width. Cut a neck hole in the plastic fabric, at the center of the shoulder width.
Spread the cut piece out flat, so the front and back of the costume piece show. Slip the costume piece over the wearer's head, to determine if the neck hole is large enough. Trim the neck hole wider, if needed, to fit easily over the wearer's head.
Lay the costume piece flat, with both the front and back facing up. Start at one side along the bottom edge of the front or back of the costume piece, and spray expanding foam in a straight line to the opposite side. Let the foam expand before adding more spray foam.
Continue to add lines of expanding foam close together, until the entire front and back of the costume is filled with the puffy yellow lines that resemble a beehive. Let the foam dry before continuing.
Wrap one end of a yellow or black pipe cleaner around a craft bee. Stick the other end of the pipe cleaner through the foam on the costume. Add as many bees to the costume as you would like.
Use a hot glue gun to attach two 1-foot lengths of yarn about 6 to 10 inches below the shoulder line, depending on whether the costume is for an adult or child. Place one yarn length on the inside front edge and one inside the back edge. Glue two more pieces of yarn, one on the front and one on the back, a few inches toward the bottom of the costume.
Put the costume on, and tie the yarn pieces at the sides to hold it in place. Wear a yellow stocking cap to represent the rounded top of the beehive, if you want.