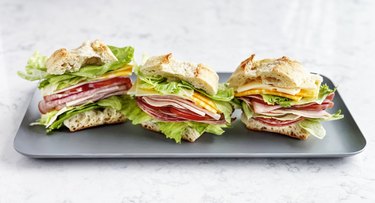 A platter of sandwiches is a pretty addition to a buffet, tea party, potluck or other gathering. Whether preparing the platter for a formal affair or the local sports team potluck, adding a variety of edible garnishes dresses up hearty meat and cheese subs as well as dainty tea sandwiches. Greens, vegetables, flowers and condiments are among the myriad of possibilities when designing a display of sandwiches for your guests.
The simplest garnish ideas focus on edibles that you can add to your plate after selecting a sandwich. Lettuce, baby spinach or kale, sliced tomatoes, sandwich-sliced pickles, whole mushrooms and other garnishes are not just decorative, but a tasty addition to spice up your sandwiches. Carrot curls and sliced avocados, cucumbers, radishes and red onions allow your guests to add their favorite fresh vegetables, while shredded red or green cabbage is a crunchy sweet option, perfect for hot as well as cold sandwiches.
Edible flowers are bright additions, from nasturtiums to violets to rose petals. Always use organically grown flowers that are intended for human consumption; don't use flowers from unknown sources. Basil, lavender, mint, parsley and other herbs are among the many possibilities for a sandwich platter.
Other finger foods add color and flavor to the platter. Sugar frosted grapes, cherry tomatoes stuffed with goat cheese, whole strawberries, pineapple slices and deviled eggs are among the many treats that guests enjoy along with their sandwiches.
Sandwich Platter Presentation Ideas
Sandwich platters can be made up of premade sandwiches or arranged with a variety of meats, cheeses and breads with all the fixings. Premade sandwiches help a buffet line move along quickly when you're feeding a crowd, while artful arrangements of the elements allow guests to pick and choose their favorites to build their own sandwiches.
When arranging premade sandwiches, cut into triangles and spear with sandwich picks to hold them together. Layer lettuce over the tray, then arrange the sandwiches, lying flat, on the cut edge or at an angle, in rows according to the fillings so guests can choose their favorites. Separate the rows with the garnishes. Alternatively, if laying out submarine or club sandwiches on long rolls, cut into 3- to 4-inch sections and arrange into curves; fill the V-shaped spaces with brightly colored garnishes.
If arranging the sandwich fixings, arrange in rows or "waves" across the platter, with the cheeses and garnishes separating the roast beef, turkey and other meats. This allows you to set up the platters ahead of time and tightly cover with plastic wrap to keep in the refrigerator until the last minute. Slice the breads or rolls and put into plastic bags to keep them fresh and soft and, just before serving, arrange in baskets next to the sandwich platter and condiments.
Condiments are an essential part of sandwiches. Use sparkling crystal bowls with silver spoons to dress up the catsup, mayonnaise, several different mustards, barbecue sauce and other condiments. Matching salad dressing bottles filled with olive oil, flavored vinegars or salad dressings make it easy for guests to flavor their sandwiches. Don't forget to put shakers of kosher or coarsely ground salt and black pepper on the buffet and on every table.
In addition to arranging sandwich platters, garnishes and condiments, remember to keep cold foods cold and hot foods hot. Chafing dishes, usually used for hot foods, can be used to keep food cold by putting ice in the bottom and arranging the sandwich platters or trays on top of the ice. Use the lids to keep the sandwich fixings covered. Alternatively, inflatable buffet coolers or shallow plastic bins filled with ice will keep sandwich platters, salads and condiments nice and cold during the party.