If there is a more well-loved sandwich, I'm not sure what it is. Between the flavorful steak, the sweet caramelized onions, the tang of the provolone, and the soft roll, this is hand-held crowd pleaser. It's simple enough to make, and impressive as far as sandwiches go, making it a great option to feed a hungry crowd.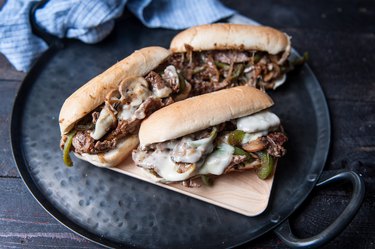 Things You'll Need
1 pound ribeye steak

1 sweet white onion

1 tablespoon olive oil

8-wt ounces sliced mushrooms

1 green bell pepper, chopped

Salt and pepper

3 to 4 slices provolone cheese

3 to 4 hoagie rolls
Tip
Get the good stuff! Many people will use a low-quality meat for their cheesesteaks, only to end up with an overly-chewy sandwich. Once you taste the melt-in-your-mouth texture of a nice ribeye, you'll never go back.
Step 1: Prep the Steak and Onions
Lightly wrap the steak in parchment paper, place in the freezer for 15 minutes while you prepare the onions -- this will allow for easier slicing. Thinly slice the onions.
Step 2: Caramelize the Onions
Heat the olive oil in a pan over medium heat. Add the onions, cooking until they start to caramelize, about 15 minutes. Onions require much more cooking time to caramelize than the other vegetables.
Step 3: Cook the Vegetables
Add the mushrooms and green pepper, cooking until softened and the mushrooms are dark brown.
Step 4: Slice the Steak
The steak should be very cold, but not completely frozen. Slice very thinly, removing any large chunks of fat. Sprinkle with salt.
Step 5: Cook the Steak
Add the steak to the pan, raise the heat to medium-high. Cook until the steak is cooked through. Salt and pepper to taste.
Step 6: Add the Cheese
Turn heat to low. Separate the filling into three to four piles (depending on how full you want your sandwiches), top each pile with a slice of provolone cheese, allowing to melt.
Step 7: Fill the Rolls
Gently scoop one filling pile into each hoagie roll. Rolls can be toasted or warmed in advanced depending on preference.