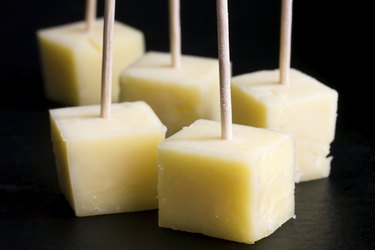 Whether simple or complex, appetizers are all about variety. Include hors d'oeuvres you make yourself as well as store-bought foods; and consider color, taste, texture and temperature in both the foods themselves, and in how you serve them. Keep safety in mind too as you plan to heat foods, or bring them to room temperature before that party: Perishable food is only safe for 2 hours out of the refrigerator before bacteria begin to rapidly multiply.
Quantities Per Person
The only difference between hor d'oeuvres served before dinner and those served on their own for a cocktail party is the amount to include. Plan on about 6 appetizers for each person, per hour, for a cocktail party; and half that amount if you plan to serve dinner as well. Exclude bowls of nuts or olives from your calculations in either case.
Serving Pieces
Planning for the presentation of appetizers is almost as important as planning the food itself. For a casual backyard barbecue, serve hors d'oeuvres on wicker plates, colorful tin trays and plastic bowls. For an elegant cocktail party, use your best platters and glass bowls. If you own fun serving pieces, that's reason enough to serve a certain food; use fancy shot glasses for small servings of a smooth soup, or single-serve appetizer spoons with a single meatball or a mouthful of seviche.
Homemade Treats
Most guests enjoy having at least 1 hors d'oeuvre that you've made specially for the party. Make-ahead appetizers might include mini quiche bites baked in store-bought phyllo shells. Closer to the party start time, make grilled bruschetta topped with roasted cherry tomatoes that you've cut in half and baked in a 300-degree Fahrenheit oven for 1 hour -- serve either hors d'oeuvre hot or at room temperature.
Store-Bought Foods
High-quality olives, marinated mushrooms, flavorful cheese, Parmesan breadsticks and baby artichokes are foods that are somewhat difficult to make yourself, but are easy to buy, and taste great. Washing and drying are the only efforts you need to make for a display of celery stalks, baby carrots and radishes, but even simple vegetables seem special standing in clear glasses and served with a blue cheese dip.