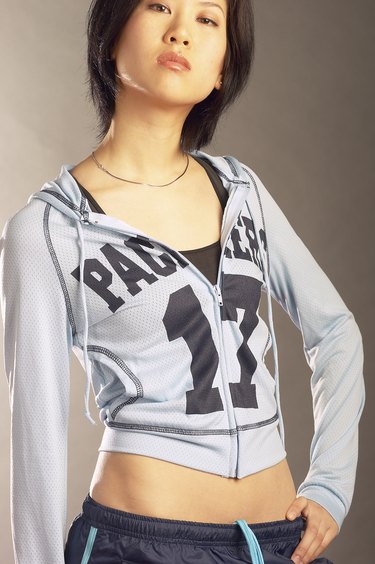 Some are pullovers, others zipper up the front -- and every hoodie has a hood and some kind of pocket to keep your hands toasty and warm. Fabrics vary, which can be a good or bad thing when it comes to shrinkage. Some fabrics refuse to shrink no matter how hard you try. That's not the case with cotton. If your hoodie is way too big and you are looking to do some extreme shrinking, you're golden if it's made of 100 percent cotton.
Step 1
Fill your washing machine with hot water. Let the hoodie soak in the hot water for a few minutes before starting the wash cycle. Wash, spin and rinse as usual.
Step 2
Send the hoodie for a long tumble. According to Cotton Incorporated, it's the tumbling action of the dryer that accounts for the majority of shrinkage. In fact, a 45-minute tumble can shrink cotton 20 percent or more.
Step 3
Try the hoodie on after washing and drying. If it still requires shrinking, repeat the process. After the first few wash and dries, cotton is no longer subject to shrinking.
Tip
If your hoodie contains a mix of polyester and cotton, chances are it may shrink somewhat. Unfortunately, if it's made of spandex, fleece or velour, shrinking is probably not an option.
Warning
Always check the tags on your hoodies before washing and drying. Some fabrics do not hold up to the friction of the washer and dryer.